Lady Antebellum Interview About Their Five Grammy Awards
Lady Antebellum Hope Their Grammys Prove That "Country Music Is Relevant"
Grammy voters are definitely smitten with Lady Antebellum. The country trio took home five trophies tonight — the most of any artist — including song of the year. Back in the press room, they stayed as humble as they discussed the inspiration behind their songs, their group name, and what their success means to them.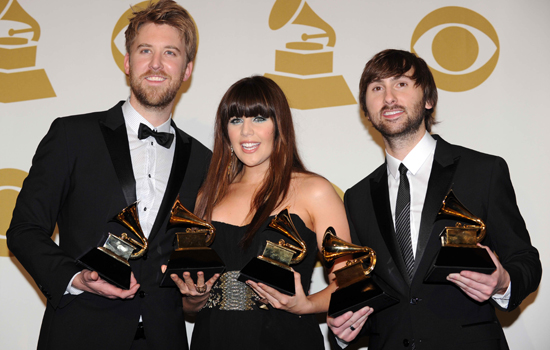 On what their wins mean:
Hillary Scott: "We really wanted to make Nashville and the country community proud tonight, and I hope they feel that way. And I think it just shows that country music is relevant, and it's relatable."
Dave Haywood: "I think for us it's all about songwriting. It's the way we started. We love sitting around and creating music . . . so hopefully we'll just continue writing."
On why "Need You Now" is so popular:
Charles Kelley: "Relatable, I guess. We've all been there. . . It's not just about the 'I'm a little drunk, I need you now,' it's not this inappropriate thing; it's this desperation thing."
On how they feel about their success:
HS: "I think humbled, the first word to come to mind. Last year for us was the best year of our lives, and then to hear the nominations, and be here tonight, we just have so much to be thankful for, and we have such an amazing core group of friends and family who help us stay grounded, and we have each other to stay grounded. And I think more than anything this is just inspiring us to work harder and to try to create better music."
On the inspiration for their song "American Honey":
HS: "That song means so much to me. I think it's another one that's so relatable, because no matter man or woman, whatever age you are, you have moments where — at least for me, as a woman — you want to go back to being five years old, and spinning around a backyard in your sundress. Think about how complicated life can get the older you are."
On how their group name came about:
CK: "We were taking pictures when we first started in front of this Antebellum home. We had just started, we hadn't come up with a name . . . It sounds very Southern, and we put lady in front of it."