Last Chance to Vote For Your Golden Globe Predictions and Win!
Tomorrow night is the night! The Golden Globe Awards ceremony airs Sunday evening, and it's your absolute last chance to fill out my ballot of your winner predictions and have a chance to win an Apple TV and a $300 iTunes gift card. If you're planning on watching the show at home, print out my ballot to follow along!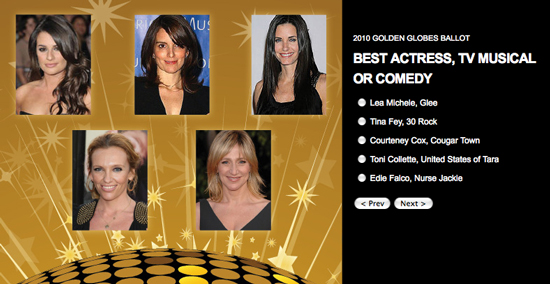 To enter, just head over here to start filling out your ballot. You'll have until noon PST tomorrow, Jan. 17, to join the fun. You must be a registered member of the PopSugar Network to play, so if you're not registered, click here to sign up. For the official rules, click here.
Our live coverage of the Golden Globes starts tomorrow with red carpet posts on Pop, Fab, and Bella, plus chatter about the winners here on Buzz! Ready to start the party? Pick your winners now before it's too late — and good luck!