Last Vegas Review
Why You Will Enjoy Last Vegas Even If You're Under 65
With headliners like Robert De Niro, Michael Douglas, Morgan Freeman, and Kevin Kline, Last Vegas seems like a comedy that's full of geriatric humor, but you shouldn't skip this little gem just because you're from a younger generation. Is there hemorrhoid humor and seniors' Jazzercise jokes? Sure. But there's also a lot to relate to, whether you're 25 or 65. Billy (Douglas) is a perpetual bachelor who finally decides to settle down with a girl half his age. The wedding is in Las Vegas, and when his buddies hear about it, they insist on tagging along for an impromptu bachelor party in Sin City. Alright, I know this sounds like The Hangover with old guys, but hey, that's not necessarily a bad thing.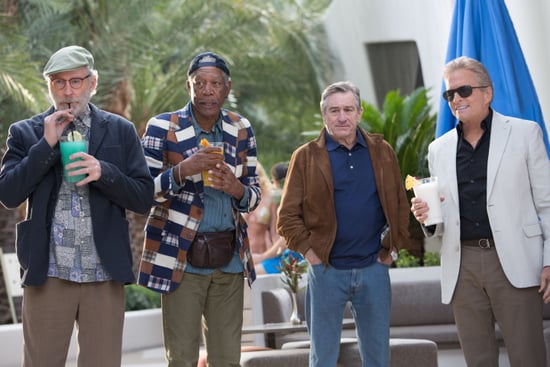 I was skeptical going into Last Vegas, but I'm happy to say I was proven wrong when I was laughing out loud — along with the rest of the audience. Here's why you might want to catch the comedy, even if it's not on your radar of must-see movies yet.
It's genuinely hilarious.
Everywhere you look, there's an Oscar winner doing something ridiculous. LMFAO's RedFoo wiggles his Speedo in De Niro's face, Kline sidles up to a lovely lady who turns out to be a man in drag, and Freeman hides his "going out" clothes from his overbearing son, like he's Ferris Bueller. It's fun to see these serious actors having so much fun on the big screen.
It's not just about old people.
Romany Malco and Jerry Ferrara also play parts as Las Vegas locals. Neither of them are too pleased by the stodgy old-timers taking over the hotel where Malco's character is a concierge, but they come around. It's fun to see Ferrara get punched in the face by De Niro in one scene, then groveling at his feet the next day. It's a clever nod to the stars' legendary status.
The plot keeps you on your toes.
De Niro plays a guy in mourning over the loss of his wife a year earlier, so he heads to Vegas, and with his friends egging him on, he meets someone: a lovely lounge singer (Mary Steenburgen). Done deal, right? It's not that easy; the groom-to-be Billy also falls for the lady. Love triangles can be predictable, but this one is well done and kept me wondering how it would be resolved.