Laura Linney and Gabourey Sidibe Discuss The Big C at the TCA
Laura Linney and Gabourey Sidibe Shed Light on The Big C
Day 2 at the Summer TCA is all about Showtime and The CW, kicking things off with Showtime's new series The Big C. The show, which will premiere on Aug. 16 after Weeds, is a comedy about Cathy (Laura Linney), a teacher who changes her outlook on life when she learns that she has cancer. Rounding out the cast are Oliver Platt as her husband and Gabourey Sidibe as one of her sassier high school students. At today's panel, Linney described the general themes of the show, while Sidibe discussed her own life's lessons.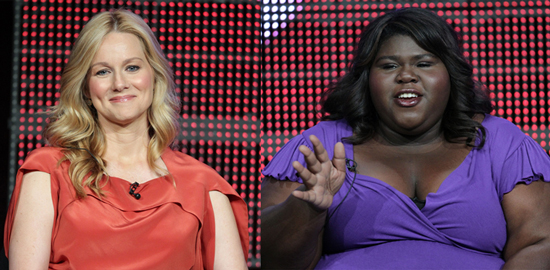 Linney, who's also the executive producer, explained that the show is not about cancer, but making the most of the time in your life. She said, "When this script came to me, what hit me the most was the theme of time. And what do you do with time? What are the choices that we make, how we spend our time. The fact that we all have a limited amount and that it's a privilege to grow old. And I think that's something that many people have forgotten in this fast-paced world."
Linney also gave some insight into who Cathy is: "She's a woman who doesn't really know who she is and she has the opportunity to find out. And she's going to take it. She's been functioning very, very well but she hasn't really been living."
Sidibe feels like she can relate to Cathy's life getting a jump start after her own crazy year following her star-making role in Precious. She said, "It's been a strange year. I thought I'd be a receptionist. I've always been middle of the lane, normal. I've always had a normal life and this is what I got! Being an actress wasn't planned at all. It just shows that whatever you've planned for your life, you're wrong."
For more on what to expect from Showtime's newest comedy, just read on.
Platt, who plays Cathy's husband on the show, discussed what attracted him to the role: "The show asks a beautiful question for me, which is: why do we start to live beautifully when we get a death sentence? We're all dying anyway."
Cynthia Nixon will show up later in the season, but don't expect to see Miranda Hobbes 2.0. Nixon plays Cathy's best friend from college, who's a "wild, loose girl who never grew up" and helps bring Cathy out of her shell.
Since Cathy doesn't know how much time she has left, the question was raised regarding the show's shelf life. To cater to the time Cathy has, each season of the series will be an actual season: the pilot kicks off on the first day of Summer, and if it gets picked up, season two will follow Cathy through the Fall, and so on.