Lawless Trailer Starring Shia LaBeouf and Tom Hardy
Lawless Trailer: Shia LaBeouf and Tom Hardy Are Brother Bootleggers
Shia LaBeouf and Tom Hardy are two of my favorite rough-around-the-edges actors, and in the trailer for Lawless, we get to see them exercise that quality, but in Depression-era garb. LaBeouf and Hardy play the Bondurant brothers, a pair of siblings who make their money during Prohibition by bootlegging alcohol. The illegal activity doesn't just make them profitable, but it also makes them feel untouchable, until two other men threaten their operation — and lives. One of them is Floyd Banner (Gary Oldman), a gangster who wants control of the Bondurants' supply (anyone else getting a major Nucky Thompson vibe from him?), and the other is an authority played by Guy Pearce, who wants to take down the brothers by any means necessary.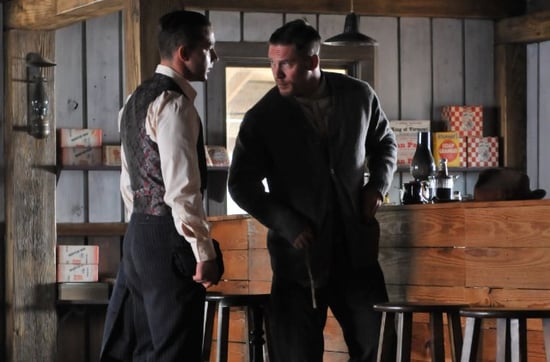 The preview for the movie, which is based on the novel The Wettest County in the World, has a lot going on, and looks like it's going to be a bit more violent than I was expecting (I had chills when the machine gun gets brought out). Still, the acting looks like it may be phenomenal from LaBeouf and his costars, who also include Jessica Chastain and Mia Wasikowska. The movie comes out Aug. 31, so watch the preview after the jump.
Photo courtesy of The Weinstein Co.