Les Misérables DVD Release Date
What to Rent: New DVDs This Week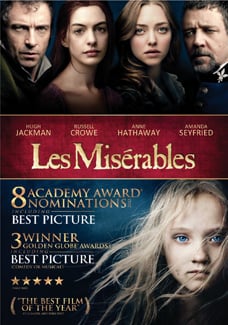 Director Tom Hooper adapted the legendary musical into this Oscar-nominated big-screen version, starring Hugh Jackman as Jean Valjean, a former prisoner who flees lifelong nemesis Javert (Russell Crowe) and finds redemption in 17th-century France. The movie is almost entirely sung, which doesn't always work, but it's a triumph when it does. Case in point: Anne Hathaway's performance of "I Dreamed a Dream" as Fantine, the role that won her an Oscar. A commentary track and a few behind-the-scenes featurettes are included on the DVD.

70%
Jessica Chastain stars in this true-life thriller as Maya, the woman who leads a decade-long hunt for Osama bin Laden. Kathryn Bigelow directed the harrowing drama, which also stars Chris Pratt and Joel Edgerton as members of the SEAL Team 6 who found bin Laden. Chastain delivers a great performance (which earned her an Oscar nomination), but the controversial torture scenes can be tough to watch. DVD extras include a few making-of featurettes.

93%
See two more new releases after the jump.
The Hobbit: An Unexpected Journey
Peter Jackson stepped back behind the camera for this Lord of the Rings prequel, starring Martin Freeman as Bilbo Baggins. The movie, the first of three installments, follows Bilbo on an adventure into Middle-earth with a group of dwarves and wizard Gandalf (Ian McKellen, reprising his role). The movie is visually stunning — and benefits from the appearance of Gollum — but it's ultimately an overlong journey. DVD extras include a preview for The Hobbit: The Desolation of Smaug and Jackson's production videos.

65%
Paul Rudd and Leslie Mann reprise their roles as married couple Pete and Debbie in this follow-up to Judd Apatow's 2007 comedy Knocked Up. This time, Pete and Debbie are facing the difficulties of marriage and parenting as they reach middle age. Mann and Rudd are charming, but Apatow's comedy gets into territory that's more depressing than funny. DVD extras include a gag reel, deleted scenes, and music videos.
52%