Libby & Michael Return, New Footage Coming, & More on Lost!
Libby & Michael Return, New Footage Coming, & More on Lost!
This morning Carlton Cuse, Damon Lindelof, and a handful of cast members took the stage for their very last Lost panel at the Winter TCA. As expected, the cast and showrunners were pretty tight-lipped about the happenings of the season finale, but they did throw us a few bones. Namely, Harold Perrineau will return as Michael, Cynthia Watros will be back as Libby, and we'll be treated to some actual new footage right before the season premiere on Feb. 2. Here are more highlights: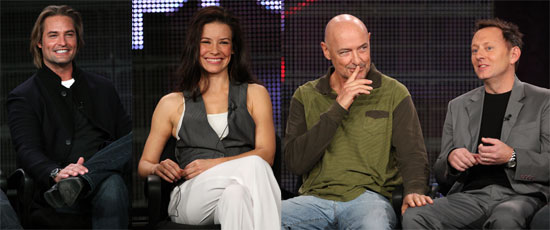 The cast was understandably emotional about the ending of the Lost era. Evangeline Lilly said she's "gonna cry like a baby" and that "it's been so intense that for it to come to an end is going to be life changing." Josh Holloway (and his million dollar smile) gushed about the camaraderie and magic on the set in the final season.
The whole crew seemed excited about the season premiere (which is apparently on the same scale as a finale), but Emilie de Ravin mentioned that it took her three reads to fully understand what happened, and Damon Lindelof noted, "Get ready to scratch your heads, America!"
The season premiere will pick up right where the finale left off.
As for favorite moments over the years, Emilie de Ravin mentioned the scenes when the cast was all together, while Lilly noted the episode where Claire gives birth and Boone dies as her favorite. Daniel Dae Kim remembers the season one finale when the raft set sail, while Michael Emerson said, "I have lots of found memories of breathless confrontations in small rooms." But my favorite goes to Jorge Garcia, who said, "When the comet hits Mr. Cluck's, and I'm laying there, and they're throwing raw chicken parts at me."
For more on what we can expect and what the cast had to say, just read more.
Rest assured, that Lost will really be over after the final season. No spinoffs, no sequels, no follow-ups.
The creators mentioned that not all of the questions raised over the past five seasons will be answered and told us that they didn't go with a "safe" ending. Translation: some will love it, some will hate it, but either way, we'll all be talking about it for weeks after the episode airs.
Even the actors don't know how the show will end yet, which Emerson noted as a plus. He said, "It's actually better, on this show, to be in the dark. It's nice not to be burdened with the secrets. Those sorts of things just get in the way."
Stay tuned for lots more from the 2010 Winter TCA!
Photos copryright 2009 ABC, Inc.