Life of Pi DVD Release Date
What to Rent: New DVDs This Week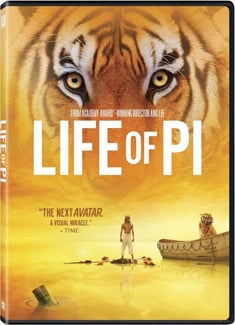 Director Ang Lee snagged an Oscar for his visually stunning adaptation of the bestselling novel. Following a boat accident, Pi (Suraj Sharma) is left stranded on a life boat in the middle of the ocean. He's not alone — his sole companion is his family's Bengal tiger. The story is well told by flashing between a modern-day Pi and his harrowing teenage experience, but the unforgettable part of the movie is its breathtaking visual aspect. The DVD extras include featurettes.

88%
Anthony Hopkins portrays the titular filmmaker in this semibiographical movie about Alfred Hitchcock. Set around the time he was filming Psycho, the film follows Hitchcock and his wife, Alma (Helen Mirren), as they work with star Janet Leigh (Scarlett Johansson) on the horror movie. The enlightening film focuses on backstage drama and the tension between the director and his wife. Hopkins makes a wonderful Hitchcock, but the film is a bit too fluffy. The DVD includes several featurettes, director commentary, and a deleted scene.

63%
Check out one more new release after the jump.
When an evil spirit (voiced by Jude Law) threatens to take over the world, the mystical beings known as the Guardians are on the defending line to save the planet. Alec Baldwin, Isla Fisher, Hugh Jackman, and Chris Pine are just a few of the stars lending their vocals, playing Santa Claus, the Tooth Fairy, the Easter Bunny, and Jack Frost, respectively. The story isn't that compelling, but the movie will definitely keep children occupied. Director commentary, character featurettes, and an interactive guide are included on the DVD.

74%