Life Unexpected and One Tree Hill Crossover Event Episode Photos
Life Unexpected Meets One Tree Hill in Crossover Photos!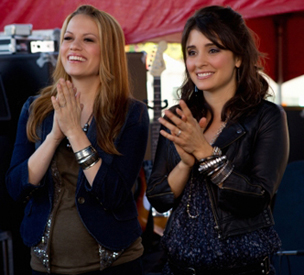 Life Unexpected is about to be invaded — by its Tuesday night lineup neighbor One Tree Hill! On tonight's episode, two characters from OTH, Haley and Mia, pay a visit to Portland for a music festival put on by the radio station. As you can see, Haley and Cate will probably be doing some bonding (over motherhood? Having it all?) while Haley and Mia also perform at the festival. They're not the only fun guest stars that week on Life Unexpected, either: real-life musicians Sarah McLachlan and Ben Lee also appear for some onstage time.
See all the pics when you read more.