Lincoln Movie Review
Lincoln: Daniel Day-Lewis Is Presidential Perfection
Note to the Academy: the race is on. Steven Spielberg's Lincoln is a richly explored slice of history with an immensely talented lead actor playing one of our nation's most lauded presidents and a fantastic supporting cast. The film centers on a crucial period during the Civil War; Lincoln (Daniel Day-Lewis) has been reelected, the North and South have been at brutal odds for four years, and there seems to be no chance for peace in sight. The president is striving to add an amendment to the Constitution to emancipate slaves, believing it to be the quickest way, aside from an impossible peace treaty, to end the bloodshed. The historical film isn't without dry moments, and the pace can be meandering, but nothing can detract from Day-Lewis's commanding performance.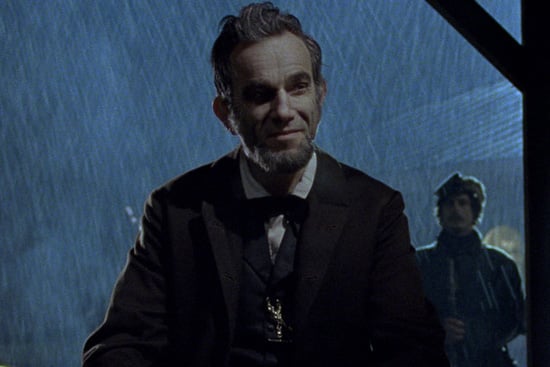 Day-Lewis is one of Hollywood's greatest actors, and his portrayal of the 16th president continues his streak of inspired performances. He breathes life into Lincoln, transforming himself into the thin yet physically domineering man, and exploring his quirks and oddities — such as his unabashed penchant for poorly timed anecdotes and long-winded metaphors. Day-Lewis's lumbering Honest Abe is just that; he's transparent in his motives when dealing with his cabinet as well as his wife (Sally Field), who, much to his exasperation, is still grappling with the death of one of their sons. Though it's a tale of politics, Lincoln is at its best when focusing on the president's role as the head of a fractured family. Find out what else I thought about Lincoln after the jump.
While Day-Lewis is magnetic, the film tends to drag at times. It begins with a ruthless war sequence, but the setting swiftly shifts to Capitol Hill and remains behind closed doors for the majority of the film. This isn't to say Lincoln is void of any animation or energy. In one of his less-than-honest moments, the president employs a group of ragtag swindlers to lobby votes for his proposed amendment. The team of lobbyists, including James Spader and John Hawkes, easily provides the most lighthearted moments of the film. At one point, Spader's character, a rotund carouser who always seems to be eating, is comically chased down the street by an arms-bearing representative. The revolving door of politicos doesn't end there: Lincoln also features appearances by Lee Pace, David Strathairn, Hal Holbrook, and, most notably, Tommy Lee Jones. Jones's brazen performance as Thaddeus Stevens, a legislator exhausted from his own decades-long dedication to the battle to abolish slavery, is one of the highlights of the film.
Lincoln isn't exactly a biography, as sticking to a tight timeline means that it doesn't fully explore the man's life, but it does delve into many personal and professional aspects of the last four months of his life. Though Lincoln lacks some of the vibrancy we've come to expect from director Spielberg's films, it succeeds as an intimate portrait of a man America has come to idolize.