List of Memorable Musical TV Episodes 2010-04-08 09:21:00
Sing Along! 5 Memorable Musical TV Episodes
If Glee has turned you into a song and dance fan like it has me, then you'll be delighted to know that Fox is turning several of its shows into musical extravaganzas later this month. That includes Bones, Fringe, Family Guy — you might even see Dr. House singing a note or two.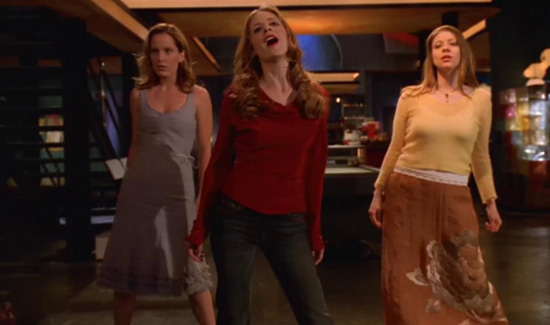 Meshing Broadway with TV isn't anything new. In fact, some of my most beloved episodes of all time have been musical-themed masterpieces. So, to honor Glee and Fox's awesome idea, I'm reliving some of my favorites.


Buffy the Vampire Slayer
"Once More, With Feeling" is a quintessential musical episode. Buffy and the gang break into vocals for some unknown reason, spilling their secrets. Is a spell to be blamed? Witches? Bunnies? Well, at least that's Anya's theory which she belts out.

To see the Buffy video, plus clips from the rest of the shows on my list

.

Daria
You wouldn't expect to see someone like Daria hum a tune, but she still maintains her glumness, singing "Oh me, oh my, a lovely day is dawning — oh, what a joy, I didn't wake up dead." To add to the bleakness, a hurricane is approaching threatening all of Lawndale. Ah, wry humor.

Scrubs
A patient with a brain disorder imagines everyone in the hospital singing, watching on as Turk (aka "Chocolate Bear") and J.D. sing about "Guy Love." There's nothing gay about it. Right?!

How I Met Your Mother
The kind of love Barney has for his menswear is the kind that musicians write songs about, as proven by this ditty complete with backup singers and dancers — in suits, naturally.