Listen to First Song From Jenny Lewis Project, Jenny & Johnny, "Scissor Runner"
New Music: Jenny & Johnny Take Off With "Scissors"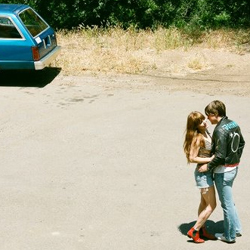 Careful She & Him, there's a new boy-girl duo in town. For her latest musical offshoot, Jenny Lewis of Rilo Kiley has formed an act with her boyfriend Johnathan Rice called Jenny & Johnny. The twosome just released their very first track, "Scissor Runner," a summery tune with pretty harmonies and a slight touch of twee. If She & Him is the stuff of '50s drive-in movies and milkshakes, then Jenny & Johnny is their groovier '70s counterpart. Bop along when you
.
Photo courtesy of Jenny & Johnny