Listen to The Hold Steady's "Rock Problems" Off Its New Album Heaven Is Whenever
New Music: The Hold Steady's "Rock Problems"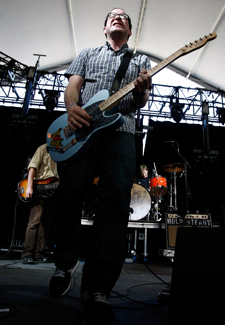 The Hold Steady's latest album Heaven Is Whenever doesn't premiere until May 4, but the Brooklyn-based band has already leaked a couple of songs online to give us an early listen. The newest one to make the rounds is "Rock Problems," a fast-paced tune that is being debuted by our friends over at Vulture.
On the track, Craig Finn sings about — you guessed it — rock-'n'-roll problems (think party-going drunkenness, unappreciative fans, and sometimes just feeling way too tired.) Oh, and in true rock form, it includes a wicked guitar solo around the 2:15 minute mark. Check it out, and tell me what you think when you
.