Listen to Julian Casablancas's Song "Out of the Blue" From The Kids Are All Right Trailer
Music in the Movies: Julian Casablancas's "Out of the Blue"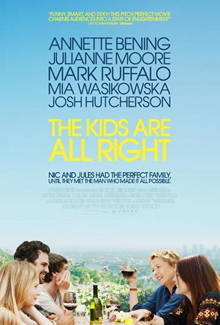 To say I'm amped for the release of The Kids Are All Right may be an understatement. The trailer has me convinced that the film is going to be solid, and it doesn't hurt that it has great tunes to boot.
The first two songs in the preview are Vampire Weekend's "Cousins" (which, OK, is overplayed) and the Madness classic "Our House"; however, I couldn't quite place the third track, so I did a little digging. It wasn't hard to pinpoint Julian Casablancas's voice, which led me to find "Out of the Blue." The tempo is frenzied and upbeat, while Casablancas sings about the ups and downs of relationships — perfect for a film about a harried family, right? So, imagine my surprise when they announced the soundtrack, and it wasn't listed! No matter, because I'm already adding it to my Summer jams. Listen when you read more.