Listen to Kid Cudi's New Single "REVOFEV"
New Music: Kid Cudi Keeps It Low-Key on "REVOFEV"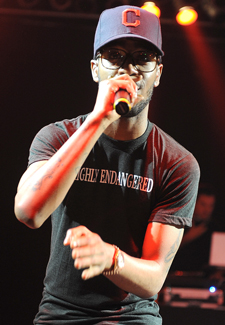 Kid Cudi — the much-hyped protege of Kanye West and star of HBO's How to Make It in America— is about to release his sophomore album, Man on the Moon II: The Legend of Mr. Rager on Sept. 14, and we're getting an early listen.
Titled "REVOFEV" (that's short for "Revolution of Evolution"), the album's first single has a heavy beat that sounds like a march. It's a call to arms of sorts, but a mellow one at that, as Cudi sing-speaks "Let go, life does get tough, no need to stress, hold you back too much." It's not the catchiest song for a single, but I'm still liking it enough to nod my head along. What do you think? Check it out when you read more.