Listen to Michael Jackson's New Song "Breaking News"
Listen: New Michael Jackson Song "Breaking News"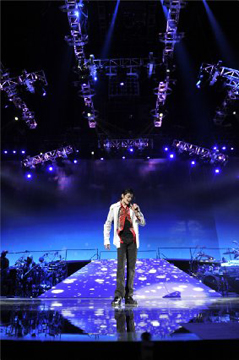 Last week I told you that we'd be getting a posthumous album from Michael Jackson, and though you'll have to wait until Dec. 14 to hear it in its entirety, today you can hear the first single, "Breaking News."
The lyrics deal with the world's perception of Jackson before his untimely death, specifically the paparazzi and scandal that seemed to follow his every move. It's quite the production, 
from the sensationalized intro of blaring MJ-related headlines to the pop singer's signature "Oooh!" But the chorus is ridiculously catchy, and I can't imagine this song not becoming a hit — or at least played out like crazy. Give it a listen when you
.