Listen to "Spitting Fire" From Going the Distance Starring Drew Barrymore and Justin Long
Music in the Movies: Boxer Rebellion's "Spitting Fire"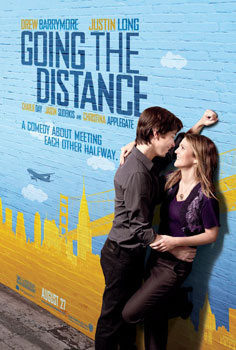 In upcoming romantic comedy Going the Distance, Justin Long's character, Garrett, works for a record label and has dreams of helping his favorite underground bands hit it big. One of those bands is Boxer Rebellion, and he takes girlfriend Erin (Drew Barrymore) to see them on one of their first dates.
When I heard the song "Spitting Fire" in the film, it seemed both fitting as the theme for the romantic comedy and familiar. It wasn't until a few days later that I realized the song also appears in the trailer (the movie as a whole promotes the British band quite a bit). The song is sweet and melodic, and absolutely stayed with me after the movie screening. Keep an eye out for my review later this month, but in the meantime you can listen to the song after the jump.