Listen to Youth in Revolt Soundtrack Song "When You Love Somebody" by the Fruit Bats
Music in the Movies: Fruit Bats' "When U Love Somebody"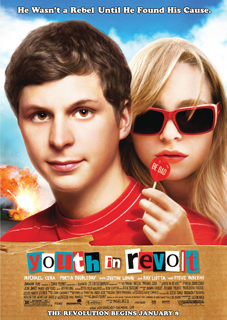 Opening this Friday, Youth in Revolt promises to show you Michael Cera in a way you've never seen him: as a chain-smoking, dirty-mouthed Lothario named Francoise. Tired of not getting the girl, shy Nick Twisp creates Francoise, his alter-ego who creates far more trouble than his romantic assistance may be worth. But Nick's doing it all for the love of a sophisticated girl named Sheeni, and in a climactic scene, a sweetly appropriate song plays to describe Nick's frenzied state of mind: "When U Love Somebody" by the Fruit Bats.
The song is actually several years old — I recognized it as a fan of the Seattle-based indie group — but I can see why director Miguel Arteta chose it. With lines like "When you love somebody, it's hard to think about anything but to breathe," it deftly validates all of Nick's troublemaking: he's crazy in love. To hear the song, just
.