Lizzy Caplan and Michael Sheen Interview For Masters of Sex
Michael Sheen and Lizzy Caplan Open Up About Sexuality and Unconventional Sex Scenes
Cable series have a reputation for being sexy, but this new Showtime series has a built-in excuse for featuring so much sex: It's called Masters of Sex, and it's about the research that William Masters and Virginia Johnson did in the 1950s that changed the way we think about sexuality. Michael Sheen and Lizzy Caplan play the pair, who began as research partners (he was the doctor with the project, and she was the secretary-turned-assistant) and eventually became man and wife. Sheen, Caplan, and other costars and showrunners came to the TCA to talk about their provocative series (which premieres Sept. 29), their thoughts about all the onscreen sex (wait till you hear about Sheen's career list), and what Caplan thinks is "b*llsh*t."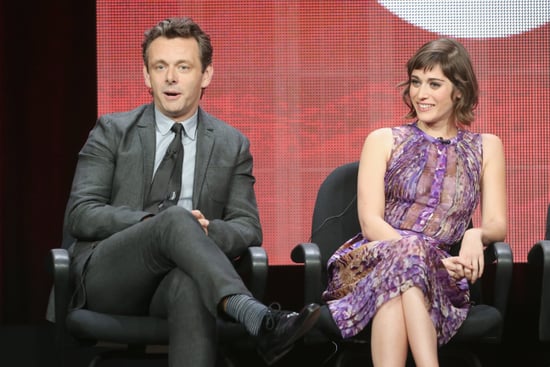 Caplan talked about her admiration for Johnson and how working on the series opened her mind not about sex — but about the positive way she was raised. She said she realized "how fortunate I am to have been raised in a household where questions were encouraged instead of judged." Caplan went on to say that the reason she's "so enamored" with Johnson is that she reminds Caplan of her own mother, who was there for Caplan growing up. "Sometimes all you need is somebody to tell you that there's nothing wrong with you, that you're normal. And before Masters and Johnson, nobody was telling women that. It was always their fault. And that's some b*llsh*t."
Even though Masters and Johnson eventually marry, it'll be a while before we see them get together. "The relationship will play out slowly," executive producer Sarah Timberman told us. What you won't have to wait for? Sex, and lots of it. Sheen mentioned that finding the right tone is important, though, because they go between so many "images of sexuality and nudity, but up against things that are medical and gynecological." So, maybe not that sexy after all.
With so much sex on display on Masters of Sex, Sheen admitted to already being desensitized: "After a while of seeing so many people so naked doing bizarre things, inevitably you just get used to it." The show, ultimately, isn't about sex, though; it's about relationships, Sheen said, and "how difficult it is to be vulnerable."
Want to read about the funniest part of the panel? Sheen described all the raunchy ways he's had onscreen sex. Get the very NSFW description of past sex scenes after the jump.
The most hilarious part of the panel came when Sheen talked about shooting a particular sex scene for Masters of Sex and mentioned, "As an actor, I've never done a conventional sex scene in my life; it's always f*ck*d up." And he did not leave us hanging; Sheen was happy to catalogue the weird sex scenes of his past, "whether I've got chocolate powder all over my face or I'm barking when I come or I'm hanging off a cliff. The first sex scene I ever did was with Stephen Fry in a film about Oscar Wilde where I rode him like a bucking bronco. So I don't really know what a conventional sex scene is like, to be honest."