Logan Lerman Interview For Perks of Being a Wallflower
Why Logan Lerman Knew He Had to Play Charlie in The Perks of Being a Wallflower
In The Perks of Being a Wallflower, Logan Lerman stars as Charlie, a high school freshman who finds solace in a group of friends after struggling with depression and his painful past. When we visited the set last year with a few other reporters, we chatted with Lerman about taking on the role of the sensitive protagonist, what it was like to work with costar Emma Watson (who also shared her thoughts about the movie), and how the film had to differ from the novel.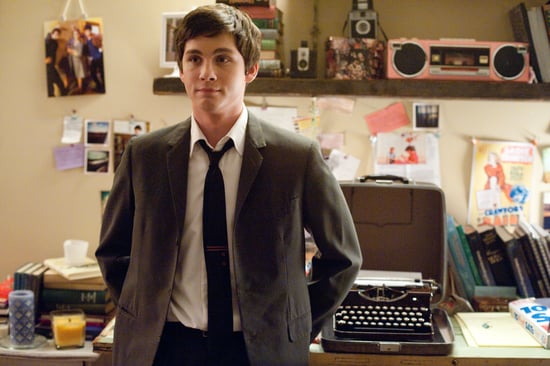 Stephen Chbosky, the director, said he knew he had found his Charlie when he met you. What made you understand the character so well?
Logan Lerman: I guess I was very similar to Charlie in many ways, growing up, and I just really responded to the material. Yeah, it was just an instant understanding, and I just knew I had to play the part.
In what ways did you feel similar to Charlie?
LL: I guess with his awkwardness and trying to figure things out in that time period and how to socialize and fit in. I guess I wasn't as naive as him, but I definitely had the morals that he had, so it kind of . . . I don't know. I really can't explain it very well . . . I'm just very similar to him, I guess. A lot of situations in the script have actually happened to me in real life, so I just connected with it.
What is it like working with Emma Watson?
LL: She's great. She's really a great person and easy to work with and a fantastic actress. [I am] a big fan of Harry Potter. Yeah, it's really exciting to see her outside of the series and what she's able to do. She's not only pulling it off, but she's blowing people away with her performance.
Read more of what Lerman had to say about Perks after the jump.
How does the movie differ from the book?
LL: It's different. They definitely had to trim out some of the details and then make it a little bit neater for the movie, I mean, just to fit it into a film. But, you know, Steve Chbosky — who wrote the novel, wrote the script — was directing it, so it's very true to the book, and I think the fans of the book are going to be really happy with what Steve has created.
Do you add any narrative at all, the way the book adds its narrative?
LL: Yeah, yeah, yeah. There's definitely some narrative voice-over and all that.
Putting the book on film inherently provides an alternate perspective from just what Charlie sees. How do you think that affects the story?
LL: It's definitely a different perspective. It's a different story in itself, because you're telling it from that point of view. Seeing it from this point of view definitely changes the story, but Steve keeps it really true to what the book is.
Is there a lot of crying on your part in this movie?
LL: There's definitely a little bit of crying. It takes me a long time to get into that mind-set, so it's a lot of preparation. A lot. But yeah, [there are] miserable days of shooting when you have to do that, stay in that mode.
Music is a big part of the book. Have you listened to the music in it?
LL: Oh, yeah. What Steve did, which was really nice, was, in the beginning of filming, he gave us a CD of all the songs in chronological order of where they're placed in the movie. So he has the CD for the movie, so that we were able to tune into what the tone is at certain times in the story and understand the feeling that he was trying to convey on screen.