Lone Star, Raising Hope, and Fox Executive Session 2010 TCA Panels
TCA Tidbits: Fox Gives Us Lone Star, Raising Hope, and American Idol Rumors!
Fox had a lively day yesterday at the Summer TCA with panels for its shows new and old — Glee had a reverent session, while Will Arnett kept it lively on the Running Wilde panel. But there was more to Fox's press day than that — check out the details on a couple other new series, as well as some bits about the new judging panel for American Idol.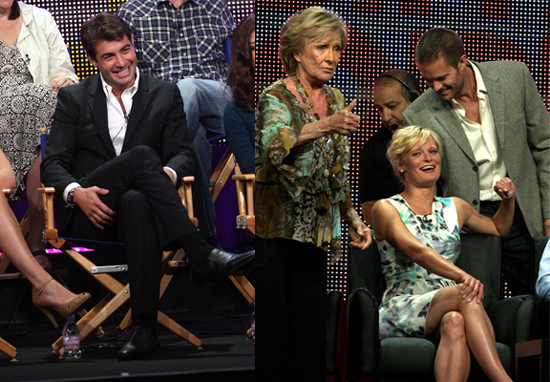 New drama Lone Star seemed to build buzz during its panel — the series is centered on a boyish con-man, played by newcomer James Wolk, who might be as much of a ladykiller as his character. When asked if he believed if it's possible to be in love with two women at once, he cracked, "I say five."
Lone Star creator Kyle Killen says he pitched the Texas-set show as "Dallas without the cheese" and isn't worried about people being able to sympathize with its con-man lead. Of Wolk's character, he says that "by humanizing that person, you end up getting behind them."
The comedy Raising Hope has the distinction of being the panel that was completely taken over by its star Cloris Leachman. She plays a great-grandmother on the irreverent series, about a young man who becomes a single father and raises the baby with his family, but Leachman was as eccentric on stage as the woman she plays on TV. In the span of 45 minutes, she ordered reporters to stand when they asked a question, moved her chair during the panel, and dropped the F bomb a couple of times. If this is what we can look forward to on the show, count me in.
To hear what the Fox execs had to say about changes for Idol, just read more.
In no uncertain terms, Fox heads Peter Rice and Kevin Reilly resolved to reveal nothing about any sort of new judging panel for American Idol. He acknowledged that there are rumors of new judges going around, but Rice would neither confirm nor deny anything. When auditions start in mid-September, however, the new panel should be all tied up.
Rice said he had talked to Ellen DeGeneres after this latest season had wrapped, and she told him that she didn't feel like it was a good fit for her. They resolved to figure out if they could move on without her, and it appears they can: before her announcement, Rice says that they were "confident we could come up with a panel that didn't include Ellen as a judge." So there it is: we're still waiting.