Lost Series Finale Is One of Biggest Entertainment Headlines of 2010
2010 Biggest Headline: Lost Comes to an End
It had to be over sometime: after six seasons of rich and often frustrating mystery, Lost wrapped up its TV run with its series finale in May. The show's last season introduced us to a sideways world; as we watched the characters struggle with life on the island, we also followed an alternate reality in which Jack, Kate, and the others never crash on Flight 815, and simultaneously experience a different life on the mainland.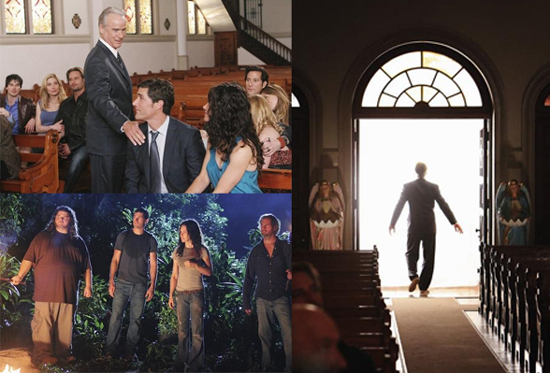 Over the course of the last season, some major questions were answered, like what the smoke monster was, where Claire had been, and why Richard never seemed to age. Little by little, we learned more about Jacob and the Man in Black — the latter of whom inhabited the body of John Locke. And as things went on, we watched more and more characters meet their deaths (RIP Sayid, Jin, Sun, just to name a few).
To revisit the end of Lost some more, just keep reading.
The ultimate purpose of the survivors is revealed: they were chosen to be candidates to take Jacob's place and keep the island safe. As Jack becomes a man of faith on the island, willing to follow Jacob and take down the Man in Black, Desmond visits the characters in the sideways world to show them flashes of their other "island life." In the series finale, Jack defeats the Man in Black and dies in the jungle. At this moment, the two timelines are united as we, with Jack, learn what has happened to everyone: they have all died, but have been allowed to come together in another place since the island had been the most important part of their lives.
It wasn't necessarily the tidiest resolution, and we were at odds on how satisfying the ending really was. But in true Lost fashion, it just gave us a chance to theorize more about the show, while the producers continued to give us even more to chew on after the fact.
The show's ending did leave us with plenty to reminisce about, such as the steamiest love scenes, best quotes, hottest shirtless moments, and other fond memories. And we took the opportunity to determine the best Lost character of all time: Sawyer!
Sure, there are still lots of unanswered questions, but even the biggest fans were ready to say goodbye. In fact, as hard as it was to let go, you voted the last season as your favorite.
And so 2010 became the year that we lost Lost, but don't be too sad — you can still catch up with the stars in their next projects!