Lucky 7 TV Series American Version
What Matt Long Would Do With a Winning Lottery Ticket
New ABC series Lucky 7 is about seven gas station co-workers who win the lottery, and when Matt Long and his costars came to TCA, they gamely answered what they would do if they won the lottery themselves. Since the show is also based on a British series (one cast member, Lorraine Bruce, starred in the original), the actors talked about whether they watched the original series.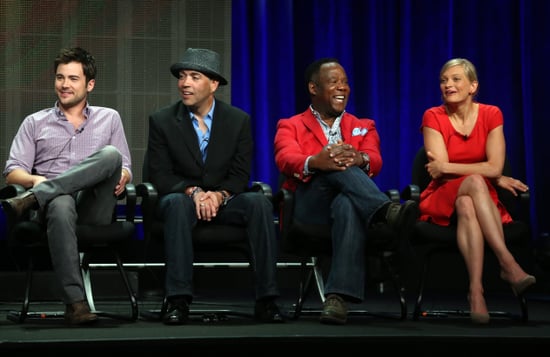 Long's answer to what he would do with his own windfall was pretty honest: "I hope I would have the wherewithal to square away a little bit of it, and then I'd just have a blast. I'd buy a house for the folks — I'd buy us some crazy house and cars and have a great time. Of course, if you were inspired and saw some cause that you wanted to give to, you would be able to do that and make a difference. But why not have a great time with it?" His costar Bruce, who is British, joked that she "would spend all of mine in scratch-it cards!" While Isiah Whitlock Jr. had a level-headed answer at first (he'd take care of his family), he topped off his answer with a joke: "I did get some good news in an email — I've got some money coming from Nigeria."
Bruce, who is the only cast member from the original British series, seemed very excited to be on the new version ("I'm lucky!" she exclaimed as to why she got to star in both series). "I get to play her American cousin," she said of her character, Denise. The other cast members, though, decided not to watch the original version so they weren't influenced by it. But "if there is anything we take from Lorraine," star Anastasia Phillips said, "it would be that enthusiasm" for the show.