The Lucky One DVD Release Date
What to Rent: New DVDs This Week
Life Happens is also available on DVD this week.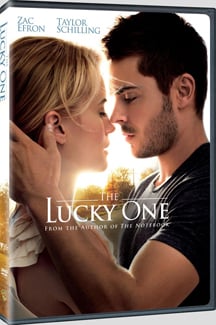 Zac Efron stars as Logan, a conflicted marine in this schmaltzy adaptation of the Nicholas Sparks romantic novel. While overseas in Iraq, Logan finds a picture of a beautiful girl (Taylor Schilling) and comes to believe she's the reason he was able to get out of duty alive. Upon his return to the States, Logan finds her in Louisiana and becomes a part of her and her son's life, much to the chagrin of some protective friends. Efron is appealing, but the movie is cheesy and formulaic. The DVD comes with the "Zac and Taylor's Amazing Chemistry" featurette.
20%
Taylor Kitsch and Alexander Skarsgard are brothers and navy men in Battleship, an overblown actionfest inspired by the board game of the same name. Alex (Kitsch) is a stubborn but lovable rule-breaker, while Stone (Skarsgard) is the dependable leader, but their world is flipped upside down when aliens touch down near their Hawaiian naval base. Suddenly, it becomes up to Alex to save his fellow troops, the country, and his girlfriend (Brooklyn Decker) from being demolished. The DVD includes an alternate ending and seven film featurettes.
34%
One more release when you
.
Steve Harvey's tongue-in-cheek instructional book inspired this comedy, which features an impressive ensemble of Kevin Hart, Gabrielle Union, Romany Malco, Taraji P. Henson, and more. The story follows several men confronted with drastic relationship changes when their respective ladies start following the advice laid out in Harvey's book. When they discover what's happened, they set out to teach the women a lesson. Think Like a Man was a surprise hit at the box office, but despite some good moments, it tries to tackle too many stories at once, letting characters fall by the wayside. DVD extras include deleted scenes and bloopers.
54%