The Lucky One Movie Review
The Lucky One: Take This Schmaltz
The premise of The Lucky One is a little convoluted, but the basics of the story are not: boy meets girl, they fall for each other, and then must overcome some obstacle to be together. If that simple formula is enough for you, you'll enjoy watching the romantic drama, but if you're looking for more than a cheesy love story, you won't find it here.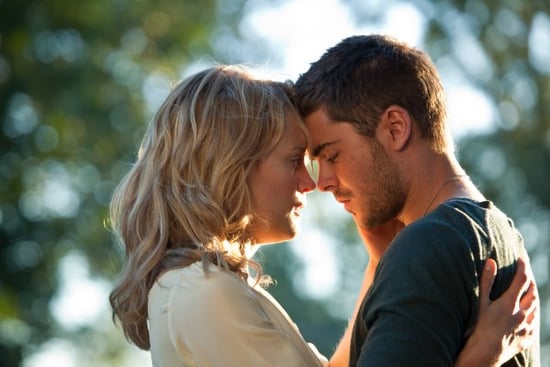 Zac Efron stars as Logan, a former marine who avoids death a couple of times in combat, and attributes his survival to a good luck charm: a photograph he found in the rubble. When he returns home from overseas, he's determined to find the woman in the picture to thank her. After walking for days across several states, he reaches his destination and finds the woman, Beth (Taylor Schilling), a single mom who runs a dog kennel. Tongue-tied, Logan fails to tell Beth why he's there, and instead accepts a job working for her. As they get to know each other, Beth and Logan slowly fall for each other, but Logan keeps his secret under wraps, to the point that it threatens their relationship. The fact that a secret about a picture is what builds suspense in the film is more than a little silly, but Efron makes up for in eye candy what the movie lacks in substance.
To find out what else I thought about The Lucky One, just keep reading.
Efron proves once again that he's a million miles away from the child star who sings and dances in High School Musical, and he's very natural as a romantic lead. He's completely convincing as a sensitive guy who'd do anything for his girl, although he's less believable as a big tough marine, especially in the combat scenes. Still, his beefed-up physique adds to the idea that the character is strong and imposing — on the surface, anyway.
Schilling is tackling her first big movie role as Beth, a character with a lot on her plate — she's grieving the death of her brother, who we learn was a soldier like Logan, but not so lucky. Schilling is good in her dramatic scenes, but the most impressive thing about her performance is the electric chemistry she shares with Efron. The actors have a few love scenes, and they don't hold back, making for the most entertaining parts of the movie.
Beth is also dealing with a difficult ex-husband, Keith (Jay R. Ferguson), the father of her young son. As the local sheriff, he does everything in his power to keep Beth and Logan apart. While Keith is the clear-cut villain, Ferguson (best known for playing Stan Rizzo on Mad Men) plays him with a vulnerability that keeps him from being a caricature of a jealous ex.
The film is based on the Nicholas Sparks novel of the same name, and if you've seen any other film based on a Sparks book, you know what to expect — particularly, some pretty sappy lines like, "You should be kissed every day, every hour, every minute." Sparks's blueprint also suffers in the adaptation, and the movie fails to make it clear why Logan hoofs it cross country or why he's so scared for Beth to know the truth about why he's in town.
But if you can look past exceptionally cheesy elements like the dialogue and refrain from rolling your eyes, The Lucky One makes for a satisfying guilty pleasure. Hey, there's no shame in getting lost in Zac Efron's eyes.