The Lucky One Set Visit Interview With Zac Efron
The Lucky One Set Visit: Zac Efron and His Costars Talk Louisiana and Love Interests
In The Lucky One, an adaptation of Nicholas Sparks's novel, Zac Efron stars as Logan, a former marine who moves to a North Carolina town to look for a woman he only knows from a photograph. When he tracks single mom Beth (Taylor Schilling) down, he has a hard time confessing that her picture was his lucky charm during combat, but finds himself falling for her. I got to visit the set of the romantic drama in Covington, LA (standing in for the fictional seaside town of Hampton, NC), with a group of reporters during filming to chat with stars Efron, Schilling, and Blythe Danner, who plays Beth's grandmother.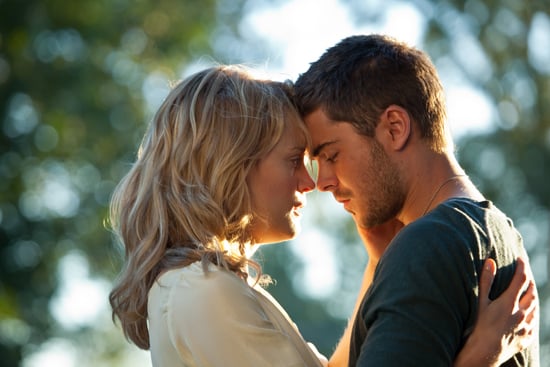 In addition to interviewing the actors, we also watched a scene as it was filmed. We were treated to a particularly interesting scene when actor Jay R. Ferguson (Stan Rizzo on Mad Men), who plays Beth's jealous ex, drunkenly confronts Logan at the farmers market. We watched Ferguson obnoxiously yelling at Efron, and when I recently saw a screening of the film, I was excited to see that that scene precedes a tense, pivotal moment.
When I chatted with Efron, Danner, and Schilling, the actors talked how much they liked their costars, whether they'd been Nicholas Sparks fans, and their appreciation for all things Louisiana — especially the food. Read some of the best quotes from the set visit (and stay tuned for the full interviews) after the jump.
How is it acting with Taylor, who's lesser known than you?
Zac Efron: She came in and was so professional, and just so good. It was really interesting to watch. I remember reading opposite Taylor, and I had read lines once or twice, and we came in, and it was her test, and she was much more honed in and more focused. I just remember she was doing so many cool, subtle things, that I was just fascinated with her, and I was reading lines. So I was like, I already love her; I don't know how anyone else couldn't. It made sense; she totally deserved to get this part. I was blown away with her.
What were your expectations of Zac?
Taylor Schilling: The thing is, honestly, I didn't know much of anything about Zac before I got this because I'd never seen those High School Musical movies — which at this point, I can't wait to see them when we're done shooting because I'm excited to see what he did before. But I did not really have much of an expectation about him. I knew that he's incredibly famous, but in terms of his work as an actor, I didn't really know. So I really got to know Zac when I tested for this film with him and he was just such an incredibly charming, down-to-earth guy — for me, coming in and having never done a studio film before — he made me so comfortable at that test, and he was so generous and so wonderful, and was also so interested in the work. He was so engaged in the scenes and was so good. So good. So talented. It's just been wonderful to work with someone I really feel has my back as a scene partner. There's some really vulnerable stuff in this movie, and I feel like I could trust Zac with anything I got. He's a special guy, a good guy.
Were you a fan of Nicholas Sparks?
ZE: I really like The Notebook. He's a phenomenal writer. I read the book, and I really liked it. I think his books are perceived to be kind of one thing, and I wasn't necessarily drawn to that genre. I felt that I didn't want to be, for some reason. And when I read The Lucky One I was just blown away. I couldn't put it down. It's really neat. He's a great writer and he goes into everybody's heads. It was a bit scary meeting him, because I wondered what he was thinking about the whole time. He's so in tune with the smallest things and his observations. I really enjoy his style. I think he writes great characters.
Had you been a fan of Sparks?
Blythe Danner: I'm ashamed to say that the only thing I had known before this was The Notebook, which I liked very much. That's one of the good things about being around as long as I have: there's always something more to learn and so many things to discover.
Were you familiar with Sparks before the movie?
TS: I actually hadn't read any Nicholas Sparks books. I saw The Notebook, but clearly I didn't do my research. I've seen a bunch of the films, and I've read The Lucky One. I do appreciate that there's something really satisfying and comforting about his stories. They're so lush and you can kind of fall into them. I really love that.
How is it working so close to New Orleans?
ZE: It's great. If you have a moment off, there's a lot of great stuff to go see. There's a lot of history here. Everything in the French Quarter is really fun, very cool; I've been out there a few times. I think the food here is real special; all the restaurants are amazing. The hardest part about it is the mosquitoes, though, [because] we're out in the swamps and stuff, and I just get eaten alive. And the alligators are pretty cool.
How did you feel about working with Taylor?
BD: It's funny. I saw Taylor on her show Mercy and I immediately said that girl's got something. I asked my agent, is there any opportunity to get me on that show, because I think she's so good. Even in this, I found myself getting lost in who she was, because she's so convincing. I remember playing a scene with Gwyneth [Paltrow, her daughter] early on — we did a TV miniseries together — and there was one moment where I looked at her and said, who is this girl? Then I realized, oh my God, that's my daughter. She had internalized that character so well that I really lost track of who she was. With Taylor, she has a real magic on camera, and a wonderful sense of what's real.