M.I.A. Song "Born Free"
Listen Up! M.I.A. Is Brash and Born Free in Her New Single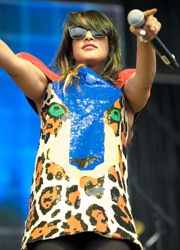 M.I.A. channels her inner rocker for her latest, "Born Free." If her signature stuff is more graffiti-colored dancehall tunes, then this is the equivalent of a pair of black leather pants. Warped, fuzzy, and with a funk feel, it has a tough vibe — although the intro feels a bit too long (M.I.A. doesn't come in till the 0:40 mark). I'll be curious to see if her upcoming album follows suit when it hits June 29, but give this a listen when you
.