MTV Jersey Shore Cast Members Reportedly to Get Paid $10K Per Episode For Season 2
Should Reality Stars Be Paid?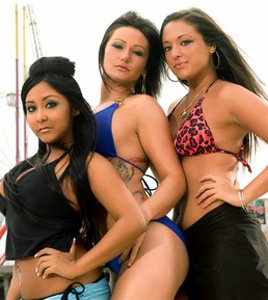 Good news for those of you who want a second season of Jersey Shore. The cast is reportedly close to a deal that would give Snooki, The Situation, and the rest of the gang $10,000 per episode (though Snooki should probably get paid more considering what she goes through in hairspray).
That figure is not nearly as inflated as the reported salaries for the major players on The Hills, but it still seems like a sweet price tag for getting smashed, starting fights, and rubbing bodies in a rooftop jacuzzi.
These are reality stars — do they deserve a paycheck? My first inclination is an emphatic "No way," but just think of their many late-night appearances or that viral Funny or Die video. With the ratings and pop culture buzz that they give a network like MTV, why shouldn't the "talent" get compensated? They probably bring in more money than some actors on regular scripted shows.
I have a feeling that this is going to be a heated debate, so share your two cents!