Machine Gun Preacher Review
Machine Gun Preacher: Target Missed
Machine Gun Preacher is one part biopic, one part agenda film, but it's not satisfying in either respect. Gerard Butler stars as Sam Childers, an ex-convict who finds his calling in the form of helping orphans in Sudan, victims of the violent acts of the Lord's Resistance Army. Michelle Monaghan costars as Lynn, his frustrated wife trying to turn her life around. The film follows Sam back and forth from his home in Pennsylvania to the Sudan as he attempts to aid its citizens.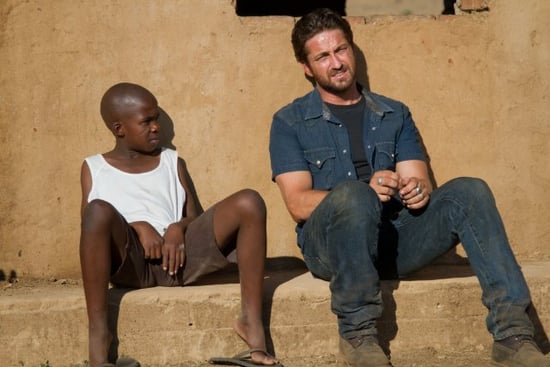 When we first meet Sam, he has just been released from prison, and he immediately goes back to what he was doing before he landed in jail: drinking, doing drugs, and committing crimes. After he almost kills a man while on a bender, Sam takes it as a sign and starts going to church. When he finds out about the plight of children in Africa, he travels overseas and sets about trying to help, eventually founding a refuge for the Sudanese kids. While the story itself is powerful, the subject matter of Sudan loses the spotlight in favor of the grandiose personality of its main character. To find out more, just keep reading.
While the movie takes itself seriously, the audience has a harder time doing so when there are so many cheesy elements. When we first meet Sam, he's kitted out in full biker regalia (including a Harley Davidson t-shirt), arms wide to steer his motorcycle, wind in his hair. It's so clichéd you wonder why "Born to Be Wild" isn't playing in the background. The eye-rolling moments continue when Sam is in Africa, from shots of him swaggering with his machine gun, (toted around in defense of random attacks by the LRA), to scenes of him gregariously laughing with African children.
Though we accompany Sam on his journey, we never get to know him or understand what his motivations are. He stays so emotionally distant (and occasionally verbally abusive) to his loved ones that he's unsympathetic. Butler imparts so little vulnerability that in the few times he expresses anguish during devastating scenes in Africa, it seems to come out of left field because he's so cold as a family member and friend back home. As for the other performances, Monaghan doesn't impress because she's given very little to do aside from browbeating Sam and exercising her regional accent.
Machine Gun Preacher is exceedingly graphic in its portrayal of the Sudanese violence, which is hard to criticize because it's based in reality. But considering that the film is so uninformative about the history and situation in the Sudan, the violence feels like it's utilized for shock value. It's manipulative, and used mainly as another example of how hard Sam's life is. We're supposed to see Sam as an antihero, but while his real-life accomplishments are admirable, in film form, Sam — and the film on the whole — fail to inspire.