Mackenzie Foy to Play Renesmee in Twilight Breaking Dawn 2010-09-27 21:56:23
Big Twilight News: Breaking Dawn Finds Its Renesmee!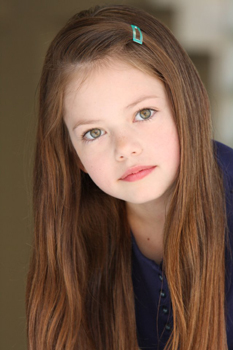 It's not just former Lost star Maggie Grace who's making Breaking Dawn casting news. A very central character may be lined up as well, and it's one we're all curious about: Renesmee.
EW.com is reporting that 9-year-old actress Mackenzie Foy is in negotiations for the role of Edward and Bella's half vampire/half human child (apologies for the spoiler if you haven't gotten there yet, but there's really no avoiding it now). The fairly unknown child actor has appeared in TV shows FlashForward and 'Til Death, but to say that her Breaking Dawn role will be a challenge is the understatement of the century.
No word yet on how the rapidly aging character will be handled onscreen, but I'm just glad that there is an actual human actress involved, and not a wholly CGI creation (as had once been suggested). So, now that you have a face, does this kid look like she could be the creation of Kristen Stewart and Robert Pattinson?