Mad Love 2011 Winter TCA Panel Quotes and Pics of Judy Greer, Jason Biggs, Sarah Chalke, and Tyler Labine
Jason Biggs Cracks American Pie Jokes and Has Mad Love at the TCA
The sitcom is alive and well, especially on CBS, which unveiled its latest comedy, Mad Love at the Winter TCA. The show is an ensemble comedy starring Jason Biggs, Sarah Chalke, Judy Greer, and Tyler Labine as four twenty-something singles falling in love in New York City. The stars and series creator sat down to talk about their rom-com-flavored sitcom and how great the cast gets along.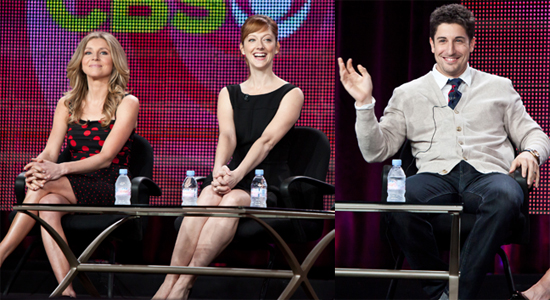 Biggs fielded questions about why he wanted to do the show, and he replied that he has "been trying to do something with CBS for quite a while." He says it's been a great experience for him, especially since the cast has such great chemistry: "We've been having a blast." And to his credit, he didn't shy away from poking fun at his own career, joking, "I have sex with a sheet cake in the second episode."
Biggs and Chalke play characters who fall for each other in the pilot, and Labine and Greer play their cynical pals. When Labine and Greer were asked how they felt about constantly being cast as sidekicks, neither seemed particularly disappointed by it. It's "less hours and more fun," according to Labine, while Greer shrugged it off, saying, "I love my career . . . I think it's been awesome."
Amid the best-friend talk of Labine and Greer, series creator Matt Tarses took the opportunity to point out that their characters, Larry and Connie, aren't just best friends. Indeed, they hate each other immediately in the pilot, but it's obvious they they may be more: Tarses says that "there's an attraction that'll play out over the course of the show" between them.
To find out more about Mad Love and Greer's comments about Miss Guided, just
.
Greer was asked about whether she'd been surprised by the cancellation of her previous show, Miss Guided, and Greer said that she "wasn't surprised, but I was super duper bummed." But she seems genuinely excited to be on Mad Love: "I'm onto bigger and better things now, so this is good."
Chalke said that she and Greer, who play best friends, have been friends for years, and had been wishing they could do a show together. Chalke and Labine also go way back, with Biggs being the only person the other costar hadn't met, but she sung his praises: "He's absolutely hysterical and has such incredible timing.
Don't miss any of my Winter TCA coverage!