Mad Love Pilot Review Starring Judy Greer, Sarah Chalke, and Jason Biggs
Pilot Scoop: Mad Love
I brought you the 411 on a ton of new midseason TV from the Winter TCA, but I still want to give the new shows a more in-depth look with my pilot scoops. Today I'm checking out the new CBS sitcom Mad Love.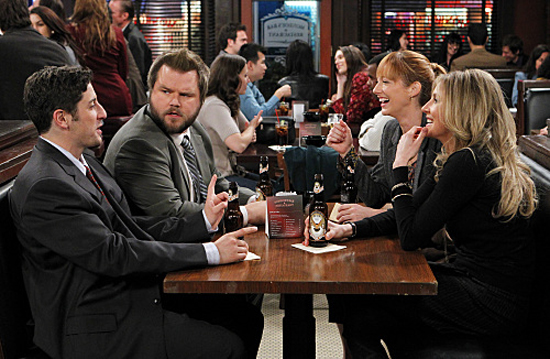 What it's about: Kate and Ben (Sarah Chalke and Jason Biggs) meet each other in the pilot and fall madly in love almost immediately, much to the chagrin of their jaded BFFs, Connie and Larry (Judy Greer and Tyler Labine). While Kate and Ben have an instant attraction, Connie and Larry hate each other (which basically means they also have an attraction, they're just fighting it).
Where it works: The show has some funny dialogue and a similar feel to its network neighbor How I Met Your Mother, and Greer is endlessly entertaining (watch my interview with her for more insights on her character).
Where it doesn't: The laugh track on this show feels particularly dreadful and forced. And while Kate and Ben are cute, their pilot interaction is just too saccharine.
Am I hooked? I'm not sold yet, but I'll keep watching to see if Greer and co. can make the sitcom worth watching.
When is it on? Monday, Feb. 21 at 8:30 p.m. on CBS.
To see a preview clip for Mad Love, just
.
Photo courtesy of CBS