Mad Men "Dark Shadows" Recap
Mad Men's 5 Maddest Moments: "Dark Shadows"
It feels like just yesterday it was summertime in Mad Men world, but alas, we've already arrived at Thanksgiving. It's not exactly a celebratory episode: Betty's cranky about both her new diet and Don's new wife; Pete's still struggling to figure out his life; and Don and Ginsberg have a showdown at work.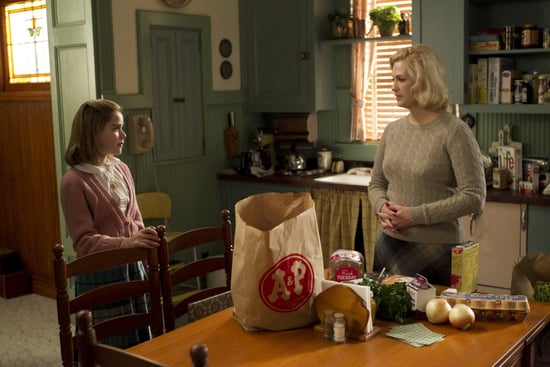 Roger, on the other hand, is still using his money to get everything he wants, which includes using Jane for some help landing a new client and paying off Ginsberg. And Ginsberg's success is Peggy's lack thereof; with him cleaning up, she has less and less to show for her work. Ready to break down the big moments? Just read more.
Carry that weight: Betty's already looking noticeably thinner than the fat suit episode, and it's because she's joined Weight Watchers. Her weekly meetings seem to be helping with her portion control, but despite measuring her sad little grapefruit dinners on the scale each night, she still can't resist sucking down a little whipped cream every now and then. As much as Betty irritates me, my heart went out to her at the end of the episode when she eats her tiny Thanksgiving dinner and seriously savors her one allotted bite of stuffing.
Green-eyed monster: While Betty's picking up the kids, she gets an eyeful of Don's swanky new apartment — and his new wife. Clearly shaken up by the incident, she retaliates by spilling the beans about Anna to Sally while Sally is in the midst of making a family tree. Betty easily manipulates Sally into thinking that Megan is a liar, but the joke's on Betty in the end. After a squabble, Don explains the Anna situation to sassy Sally and Sally reports back to her mother without even mentioning the argument. Betty proceeds to freak out. I've got to hand it to Megan for convincing Don not to call Betty in a rage; not only is Megan spot-on about giving Betty what she wants, but she also diffuses the argument pretty quickly.
Fantasy land: Pete is particularly smug because he's been chatting with a reporter from the New York Times Magazine who's doing a piece about ad agencies. Once he's done bragging about his connection with Roger and Don, he assures them that he'll be the only one contacted for the interview. Pete then proceeds to have gross sexual fantasies about how the article will help him win Beth back, but — surprise — he doesn't even make it into the article! He calls Don enraged, but it's clear that Pete's really just mad at the world since, once again, things are not going his way.
Wine time: Bert asks Roger to court a potential new client, and since it's Manischewitz wine, he suggests that Roger's Jewish wife could be of service. Though Bert is a bit behind on his interoffice gossip, Roger still takes the client and asks Jane for help. In return, she asks for a small favor, and by that I mean a brand-new apartment. Roger agrees, and then proceeds to um, christen the new apartment with Jane after dinner. She's angry that he's tainted her new place, but there's a much bigger concern at play here than Jane's whining: when is all the money that Roger's been throwing around going to catch up with him?
Still got it: While Don's putting in a little overtime at the office, he comes across Ginsberg's folder of sketches, and is inspired to get back to basics. His idea is a little dark (you know, because it's based in hell and all), and he puts it head to head against Ginsberg's childlike pitch for the same product, SnoBall. The rest of the team likes both ideas, and agrees that Ginsberg should be the front-runner. Too bad Don conveniently leaves Ginsberg's pitch in the taxi, and sells his snowball's chance in hell idea to the company. Ginsberg obviously isn't in a celebratory mood, but when he confronts Don about what happened, Don just shuts him down. Now that both Don and Peggy feel threatened by Ginsberg, might we see them teaming up against him?
There's also more death omens in this week's episode, including Megan teaching Sally how to fake cry by focusing on something sad, and of course, the mysterious toxic smog that invades Thanksgiving. How'd you feel about the episode overall?