Mad Men Emmy Press Room Interview 2011
The Mad Men Cast Talks About Their Best Drama Emmy Streak and Missing January Jones
Mad Men picked up its fourth consecutive Emmy win for best drama series, and series creator Matthew Weiner joined the cast in the press room to talk about the fact that they didn't expect a win, being a gracious loser to Friday Night Lights in the writing category, and missing cast member January Jones, who didn't come because she recently gave birth to a baby boy.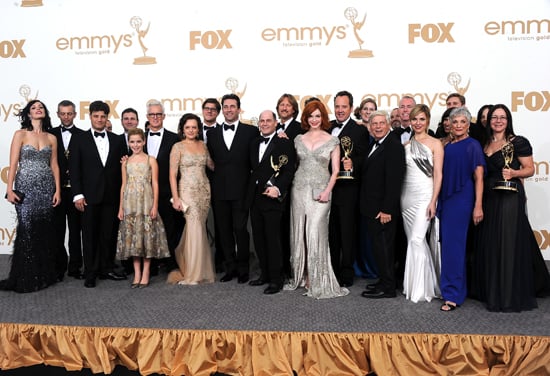 Matthew Weiner, on not expecting to win: "I actually heard a lot more 'We loved the show last year but you're not gonna win.' I was disheartened, but we can't go on forever. We keep doing the same work whether we win or not. Lots of people out there are working just as hard and haven't won at all. So I had made peace with the fact that we might lose. Then it turned out we didn't and I'm really happy."
Weiner, on missing January Jones:: "She's home with her baby, John Slattery says. Her baby had his fingers crossed, she told me that. And she said it was really weird that we were going to be here without her, and we miss her terribly. And I had a horrible superstition that her not coming was bad for us and told her she should come anyway, but she didn't. We miss her tonight and we're super happy for her, all of us are. It's a great addition to our work family; we're very close here."
Weiner, on tying Hill Street Blues, The West Wing, and LA Law for the most best drama wins: "I have not absorbed that. I'm a huge fan of television and I've watched all those shows. It's hard to comprehend that we're in that company. It really is."
Weiner, on how winning the award feels after undergoing very public contract negotiations: "You know what, we are always fighting to keep the show the way it is and to keep it good. Everything worked out. The sweetest thing is that we got to go back to work. We get to go back to work tomorrow, and we get to keep making the show for another 39 episodes. And that is really the result of all of it."
Weiner on losing to the best writing Emmy to Friday Night Lights's Jason Katims: "Jason's a great writer, I'm thrilled that he won the award. No one expects any of this. I'm looking at what I think is the greatest cast in television right now, and we were shut out. But we won this award; things sort of balance out, I guess. We got recognized for the show, which is everybody's work on the show, writing, directing, everything. All of that together, to me this is the prize that says people love what we're doing."
Read all our Emmy press room coverage and don't miss any of the great quotes from tonight's big winners!