Mad Men Gifts
Buzz Gift Guide: Mad Men Memorabilia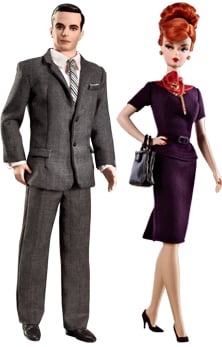 What can you buy your favorite Mad Men fanatic this holiday (other than a stiff drink, of course)?
For starters, try Roger Sterling's labor of love, Sterling's Gold ($12). Yep, you can actually purchase the faux memoirs as a gift for under your tree, and that's not all. If you're obsessed with the show's '60s style, costume designer Janie Bryant lends her expertise with her book The Fashion File ($17) and a line of nail polishes ($25) inspired by the series. But if you really want to go all out, nothing quite says rabid fan like these special collector Mad Men Barbie Dolls ($225 for the set of Joan, Betty, and Don). Finally, a Don Draper of your very own!
Eye these selections below, then be sure to check out the rest of our gift guides on Buzz and across the Sugar Network.