Mad Men's January Jones Loves Jersey Shore 2010-01-17 19:46:45
January Jones Can't Contain Her Jersey Shore Love in the Globes Press Room
Mad Men won Best TV Drama at tonight's Golden Globe awards! Some of the cast headed back to the press room where questions quickly went to John Hamm's beard. He assured the crew that it's due to pure laziness after having to shave twice a day when he's filming the show. He's still handsome, however, but the real laughs were when January Jones interrupted Matthew Weiner while he was talking about the honor of getting another statue: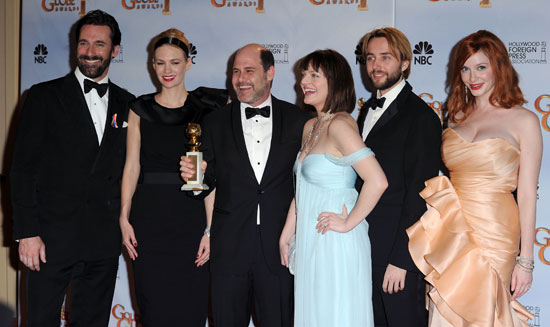 Matthew: "For me, it's hard to believe since we've been through it three times, but we are all very excited to be included in this. TV is really, really good right now and we're very thankful to be included in this. There are shows that weren't even nominated that are amazing."
January: "Jersey Shore!"
Matthew: "Jersey Shore? In our category, January. So I'm thrilled. I'm very, very grateful."