Mad Men as The OC | Video
9 Things That Made Us LOL This Week
Another week, another round of hilarious spoofs, videos, and GIFs from around the web! With funny finds that feature Mad Men, Stephanie Tanner, the Backstreet Boys, and more, the Internet definitely kept us entertained this week. Take a look at the spot-on mash-ups, silly lyrics, and outrageous moments caught on tape that had us laughing out loud this week.
Mad Men Meets The OC
The Backstreet Boys headed to The Late Show With David Letterman to present the night's top 10 list: The best Backstreet Boys lyrics. The group didn't exactly sing the lyrics we remember, though, belting out choruses like, "I don't care who you are / Where you're from / What you did / I have very low standards."
Stephanie Tanner's Juicy J Dance
In one truly random, perfect mash-up, a sweater- and leggings-clad Stephanie Tanner shows off her dance moves with a routine to Juicy J's "Bandz a Make Her Dance." Uncle Jesse, the crowd, the judges — everyone's loving it. Us, too.
Keep reading for more funny finds.
A Reimagined Game of Thrones
In Wrong Director's take on Game of Thrones, we see what the show would be like if it starred Zooey Deschanel as Daenerys, Michael Cera as King Joffrey, and Aubrey Plaza as Ygritte of the Wildlings. In the spot-on spoof, Michael Cera's Joffrey isn't quite as brutal: "Oh, right, I'm a scary king I guess, right?"
Obama Sings Daft Punk
This isn't the first time we've seen Obama "singing" a popular song, but his latest crooning efforts for Daft Punk's "Get Lucky" had us cracking up. One of our favorite highlights: Mr. President checking himself out in the mirror.
The Running of the Interns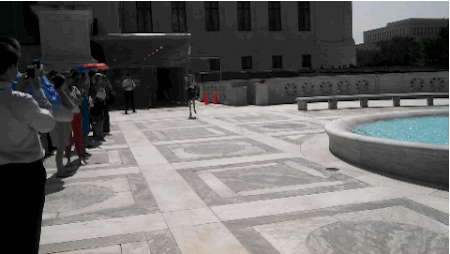 When the Supreme Court issues a major decision, broadcast news interns are on hand to receive the official rulings and run them — literally — to their respective bosses. At a time when most news is relayed digitally, it's fun to see things done the old-fashioned way, and this intern took things a step further with a victorious hand-raise.
Jimmy Kimmel's Injury Reenactment
Earlier this week, Jimmy Kimmel was seen out and about with a black eye, so he decided to clear up the cause of his injury with a hilarious video reenactment. His fiancée, Molly McNearney, teamed up with a shirtless stud to act out the dramatic car scene.
Ryan Gosling: The Friend Stealer
In Funny or Die's "Ryan Gosling Stole My Best Friend," it becomes clear that absolutely no one is safe from falling under the Ryan Gosling love spell. Josh's friend Adam takes a part in a Ryan Gosling movie, then gets brainwashed into becoming one of Gosling's minions, "helpless" against the star's charisma.
The Ultimate Wedding Fail
This can't-look-away clip of a woman drunkenly spinning around a tentpole during a wedding was originally posted three years ago, but this week it went viral. We can see why: from the bride's evil eye to the surprising ending, it's one seriously epic fail.