Mad Men Recap "The Better Half"
Mad Men's 5 Maddest Moments: "The Better Half"
The ex- files are revisited on this week's Mad Men as Don and Betty find themselves reconnecting on a hot Summer camp retreat. Whether it's because Don has broken the seal on cheating or Betty's sexy new figure is just too hard to pass up, it makes for a déjà vu effect on the episode, especially because we also revisit Joan and Roger's old relationship. Speaking of relationships, Peggy and Abe's dissolves this week, after a very unfortunate knife-on-a-stick incident.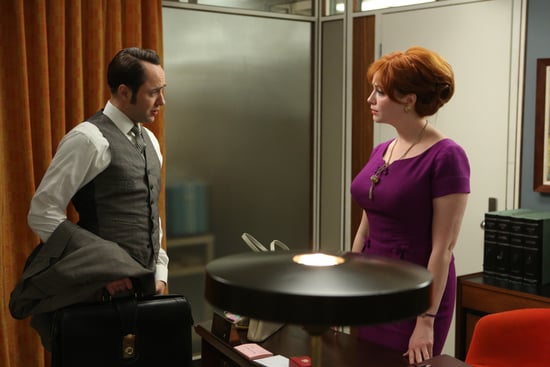 There are some other interesting things happening at the office this week, like the tug-of-war Peggy is feeling between Ted and Don, as well as Bob Benson yet again sticking his nose into the business of others. Ready to go over the maddest moments of the week? Get them after the jump.
How Betty got her groove back. Betty is back to being blond, thin, and beautiful, and everyone is noticing: her husband, her husband's associates, and even her ex, Don. When the former spouses find themselves at Bobby's Summer camp for the weekend, they're like a cute little family (Don sings a song! And fist pumps!). Naturally, they end up in bed together, and it's their pillow talk that's the most interesting: he muses about what it would have been like to stay together, while Betty remains coolly disconnected, pitying Megan and making astute observations about Don.
Domestic disturbance. Abe gets stabbed in his and Peggy's up-and-coming neighborhood, but he doesn't want to talk to the cops and is instead focused on writing an article about fascism. Peggy's less than enthused about his journalistic integrity and resolves to sell her place, but not before she accidentally stabs Abe. I'd say, "Poor Abe," but I can't really muster sympathy for the guy, who dumps Peggy in the ambulance en route to the hospital.
On to the next one? Peggy may not be that broken up about her breakup, because it seems like she still has some feelings for Ted, who basically admits that he has a crush on her. He says he doesn't want to feel this way, though, because they're both taken. There are definitely some mixed signals going on here, because later, when Peggy informs him that she's now single, Ted barely seems to register it. Not your week, Peg.
Kissin' costars. Megan's having some creative difficulty at work (dual roles are tricky, you know?) so she invites over her costar Arlene to help her, which Arlene interprets as "come over and make out." Either the kiss or Megan's sixth sense about Don's infidelity pushes her to finally say something to Don about how things between them need to change. She doesn't hint that she knows about the cheating, but I'm glad to hear her being less naive. I doubt that her speech will make much of an impact on Don, though, sadly.
Father does not know best. Roger loses his grandfather privileges when he takes his grandson to see Planet of the Apes, so he refocuses his paternal energy toward Kevin, Joan's son. Joan sets him straight about not confusing Kevin about his paternity, but let's talk about something else confusing: Bob's presence in Joan's life. He takes a beach trip with her in some super awesome short shorts, and Roger wants to know what the deal is, too. The trip seems friendly enough, right? Anyway, Bob Bunson — ahem, Benson — is certainly using his friendship with Joan to get further. When she tells him Pete came to her for advice about his mother, Bob naturally has a nurse ready to go. Maybe he should just be a really excellent personal assistant?
What did you think of this week's episode?