Mad Men Recap "Blowing Smoke" 2010-10-11 07:30:00
Mad Men's 5 Maddest Moments: "Blowing Smoke"
The wheels are really coming off the wagon that is Sterling Cooper Draper Pryce, and on this week's episode of Mad Men, Don may have added another nail to the coffin. As the water continues to rise for the company, it's getting harder and harder for Don and the rest of the team to land new accounts. Much like the end of season three, it feels like big changes are on the horizon.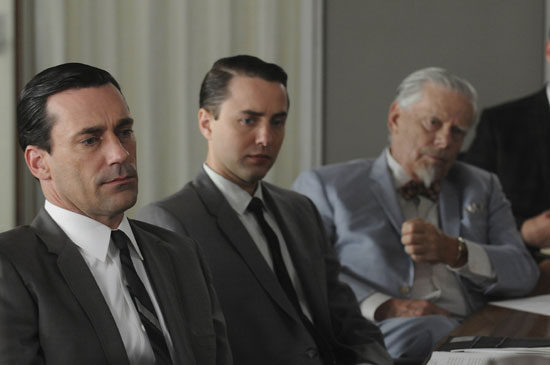 This week the smaller adjustments begin: layoffs are made, Betty may be uprooting the Draper kids, and Don makes a very big decision regarding the future of the agency without consulting his partners. There's a lot to chew on as we gear up for next week's big finale, so just read more.
Dire straits: Don's big meeting with Heinz doesn't exactly go as planned; the exec is excited about Don's ideas, but doesn't want to get in bed with a company that may be about to go under. The partners at Sterling Cooper Draper Pryce call in an adviser, who gets them a meeting for Philip Morris tobacco. With most of their eggs in the proverbial basket, the partners are crushed when they learn that Philip Morris was only using their meeting to get a better deal with Leo Burnett. Pryce manages to get a bank loan, but it requires a hefty collateral fee from the partners — and a round of layoffs.
Doctor Feelgood: Sally has a meeting with Dr. Edna, who says she's really proud of Sally's progress and that Sally is ready to have fewer sessions. Unfortunately, Betty is displeased when she hears this news because she's skeptical that Sally has been "cured." Clearly, Betty has been enjoying her monthly sessions with Dr. Edna to talk about Sally complain about Henry, but Betty balks when Dr. Edna tries to refer Betty to a shrink of her own. You know, because Betty "doesn't need a psychiatrist."
Hugs, not drugs: Don is shocked (as was I) to see his former love Midge in his office lobby. Now a "starving artist," she chalks the meeting up to coincidence and invites Don back to her apartment to meet her husband, Harry, and check out her paintings. Harry wastes no time trying to hit Don up for cash, and more or less tells Don that he's free to sleep with Midge if he buys one of her paintings. Once Don forks over some money, Midge reveals that she and Harry have become addicted to heroin and that she sought Don out for cash. Clearly pitying her, Don gives her the contents of his wallet for one of her paintings.
Man on a mission: After getting rejected by a second tobacco company, Don takes to his notebook again, this time to write a piece called "Why I'm quitting tobacco" (while smoking a cigarette, no less). As it turns out, this isn't just another "dear diary" moment: Don's article about why his ad agency won't be taking on any more tobacco accounts turns up in The New York Times. He waxes poetic about how the product doesn't improve and only hurts people, and even refers future tobacco accounts to his competitors. The partners are furious that they weren't consulted, and Cooper picks up his shoes and quits right there on the spot. Lane calls Don a hypocrite, doe-eyed Megan praises him for taking a stand, and Peggy quietly supports his decision. Ultimately, though, the article means Faye has to resign from her post — which means she and Don can finally go public with their relationship. Overall it's a very gutsy move on Don's part, but it certainly calls attention to the company. Do you agree with his actions or do you agree with the partners?
Like mother, like daughter: As Dr. Edna suggests, Sally seems to be calmer and better behaved these days — but her private meetings with Glen are proving to be just as influential as her therapy sessions. Sally's relationship with Glen is pretty sweet (she doesn't even accept his cigarette offer), but her mother doesn't see it that way. In a kind of awkward argument (remember when Glen was in love with Betty?), Betty forbids Sally from seeing Glen anymore. Taking things one step further, she tells Henry that she thinks it's time that the family move to a new neighborhood.
What are your thoughts on this week's episode? Will Sterling Cooper Draper Pryce finally fall in next week's finale? Will Sally get even more rebellious? Leave your comments below or take them to the Mad Men community group!