Mad Men Recap "At the Codfish Ball"
Mad Men's 5 Maddest Moments: "At the Codfish Ball"
This week's Mad Men puts the spotlight on Megan, who has a career breakthrough at work, though she's less successful with her visiting parents. Peggy's domestic situation is also highlighted when she takes her relationship with Abe to the next level, and Roger is bouncing back from his separation from Jane quite nicely — though it would have been nice if he could have kept his pants on.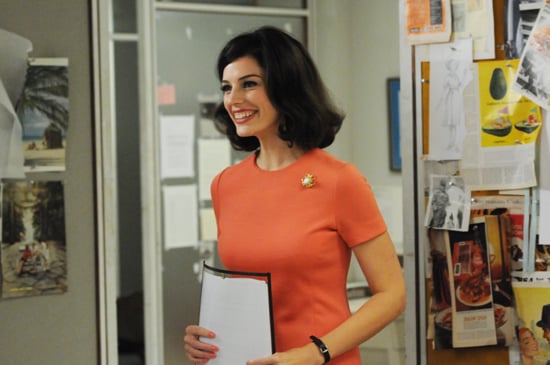 This week's episode is far less stressful than last week when Megan goes missing, but there's still plenty of fodder to chat about. To see what I thought were the five maddest moments of the night, just read more.
An unpleasant trip: Glenn's back on the scene, taking phone calls from Sally in what seems like a regular occurrence. While she gabs, Henry's mother trips on the phone cord and hurts herself, which sends Sally and Bobby to Don and Megan's, where they're already entertaining Megan's parents. Her father thinks that Don is showy, and he doesn't approve of their lifestyle, but the most shocking thing is that Don actually makes an effort to please them, even brushing up on his French.
Dinner triumph: At the office, Megan gets an idea for Heinz, which Don loves and immediately regroups to use it. It's almost a moot point, though, because when they're out at dinner with Heinz exec Raymond, his wife warns Megan that they're about to be fired. Megan prompts Don to deliver the pitch right at the table, and ends up saving the account. It's a huge moment for Megan and everyone at SCDP is impressed, but her father remains nonplussed, and Megan ends the episode crestfallen that she still can't make daddy proud.
Domestic dispute: Abe isn't so comfortable hanging out in Peggy's testosterone-infused office environment (where she's clearly the most comfortable), so when he makes an impromptu date with her, she thinks he's about to dump her. Joan has sage dating advice for Peggy, and she thinks he's going to propose. She's sort of close — Abe proposes they move in together, and though Peggy says yes, smiling, you can tell she's disappointed that he doesn't ask her to marry him. Her mom is vocally disappointed, saying they're living in sin and that Abe is just using her as practice. One person who lifts her spirits is Joan, who calls it romantic and brave. I can't tell if Peggy is truly happy with Abe, but I can tell that she's truly happy to have Joanie back in the office.
Best Freudian slip: Everyone is getting ready for the American Cancer Society event honoring Don for his tobacco letter, including Sally, who has a new dress for the occasion. Don decides the boots and makeup are a bit much, and Megan's dad tries to step in with words of wisdom, but he misspeaks and says something way dirtier: "One day, your little girl will spread her legs and fly away." I giggled right along with Roger.
French lesson: Roger is feeling re-energized since his LSD trip and impending divorce from Jane, so he's pretty lighthearted, which catches Megan's mom's eye. He's especially animated at the ACS dinner, where he's being super cute with Sally, calling her his date and making her feel important. The cuteness ends there, though, when Sally walks in on Megan's mom with her head in Roger's lap. Not exactly what she needs to see right now.
What did you think of this week's Mad Men? Are you happy for Peggy, or do you too think she's selling herself short?
Photo courtesy of AMC