Mad Men Recap "Far Away Places"
Mad Men's 5 Maddest Moments: "Far Away Places"
The relationships of Peggy, Don, and Roger are the focus of this week's Mad Men, and we see them each engage in some pretty dramatic behavior while dealing with their personal lives. Peggy and Don can't find the best balance between their partners and their careers, while Roger seems to finally get the resolution he needs from his marriage in order to move forward.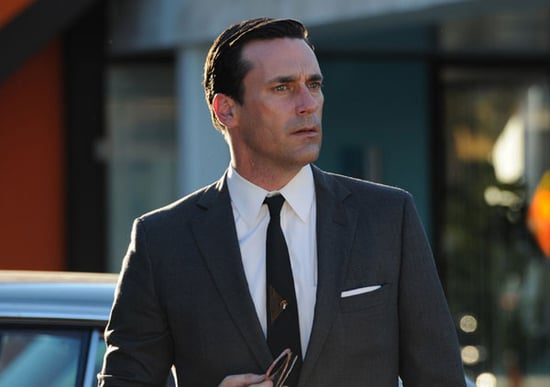 There are a couple of jarring scenes this week, though nothing quite so crazy as last week's fistfight between Lane and Pete. Still, there are lots of mad moments to get to, so let's break them down after the jump.
Movie madness: Peggy's having relationship problems with Abe, and she has an even tougher time at work. Don takes off at the last minute and misses Peggy's Heinz pitch, where Peggy swings and misses again with Raymond, the Heinz exec. She takes off to a movie, accepting a drag from the joint of a guy on one side of her, then, you know, casually pleasures him.
Ginsberg family matters: Ginsberg's daddy issues come to work with him when his dad literally shows up at the office. Michael seemed like a weird bird in the beginning, but this week he tells a story that makes him seem a lot weirder. He tells Peggy he's a Martian very earnestly, but it's within that story that he communicates to her that he was born in a concentration camp in which his mother had died. Strangely, it's this story that gets Peggy to call Abe, asking him to come over, despite the movie incident.
Electric divorce acid test: Roger's acid trip killed me, especially because we hear what he hears (musical notes, his thoughts), see what he sees (Don's reflection, Bert on a dollar bill, multicolored hair), but most importantly, see him with his head wrapped in a pink towel. As funny as it starts out, it leads to a melancholy but beautifully composed breakup scene with him and Jane, where they confess that it's over. Jane doesn't remember much of it in the morning, but Roger still walks out the door. So when can we expect a reconciliation between him and the recently single Joan?
Mrs. Missing: The different attitudes Don and Megan have toward their work/marriage dynamic are illuminated when Don whisks Megan off to a Howard Johnson's, pulling her away from the Heinz account. It's clear that he doesn't take her job at SCDP seriously, and when she makes a reference to his mother, Don storms off, and when he comes back, Megan has disappeared. She had gone back to New York, and after not wanting to let Don into their apartment, he chases her through the place, but they just end up exhausted and shaken by the incident. Megan is traumatized by the fact that all of their fights end in such drama — and I am too.
The phone booth: Did anyone else think that something terrible had happened to Megan when we saw Don call from the phone booth in two different scenes — the first from Peggy's perspective, and the second from Don's? There has been so much violent imagery where Don's concerned that I keep bracing myself for something awful to happen.
What did you think of this week's Mad Men? Were you surprised by Peggy's behavior at the movies, and what did you think of the way Roger and Jane decided to separate? Let me know your thoughts in the comments!