Mad Men Recap The Flood
Mad Men's 5 Maddest Moments: "The Flood"
This week's episode of Mad Men is marked by the death of an icon, as we see how each of the characters respond to the death of Martin Luther King Jr. Everyone's a little more emotionally volatile than usual (especially Pete), and even little Bobby Draper is deeply affected by the event and its aftermath.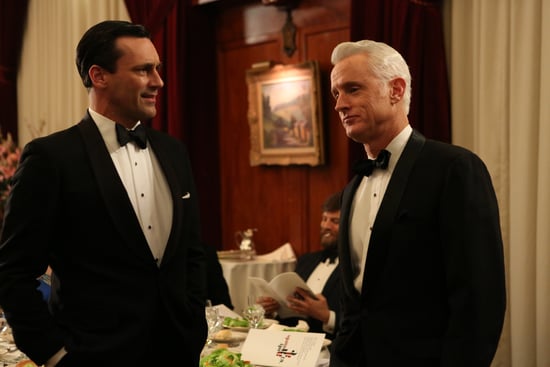 The unraveling of Don continues as usual, and this week, he makes a pretty big confession to Megan about parenthood and his own father. Let's break down the biggest moments of the episode when you
.
Peggy and Abe play house. Now that Peggy's a big-time ad exec in her own right, she's ready to move into a cushy pad on the Upper East Side (with easy access to that soon-to-be-finished Second Avenue subway, wink). Abe is a little less enthused about the fancy digs, which Peggy takes as a sign that he's not ready to get serious with her. She's wrong though: he just wants their kids to be a little more hip. All it takes is for Abe to mention that he wants kids with Peggy at all, and she seems ready to relocate to just about anywhere.
Tragic interruption. Don and the Sterling Cooper Draper Pryce gang head to an award show, where only former employees Megan and Peggy are nominated — awkward. Megan ends up taking home a prize, but we never get to hear her acceptance speech because news of MLK's death breaks first. Everyone is frantic, depressed, and basically just want to get home to their loved ones.
Like a virgin. Ginsberg comes home from a long day of work to an interesting surprise: his father has all but gift wrapped a pretty school teacher for Ginsberg to date. He's even more high-strung and twitchy than usual, making awkward comments about how sexy his date is before revealing that he's never even had sex himself. The irony is that his date doesn't seem to be derailed by his anxiety, but the MLK news destroys any chance of a magical night together.
Fighting words. Was Harry Crane always this much of a jerk, or is he getting worse over time? As the rioting continues in NYC, there's a somber vibe in the SCDP offices. Harry isn't sad about King's death so much as he's lamenting the loss of valuable programming that is now being preempted by news. When Pete gets an earful, he loses his cool and calls Harry a racist right there in the middle of the office. I rarely agree with anything Pete says and does, but he's right on the money in putting Harry in his place.
Daddy issues. Move over, Sally — you're not the only mixed-up Draper kid in the house anymore. Don and Betty get into a spat when Don balks at driving through the riots to collect the kids. Betty accuses him of not wanting to spend time with them (and with prioritizing his "girlfriend" over them — is she talking about Megan or his presumed mistress of the moment?). Don begrudgingly picks them up, only to pass them off to Megan. Bobby fakes an illness and gets to spend the day watching back-to-back showings of Planet of the Apes with dear old dad. Bobby even admits to Don that he's worried about Henry getting shot at work, which is perhaps the first time we've seen any sort of connection between the Draper kids and their stepfather. After a few drinks, Don later admits to Megan that he didn't exactly love his kids at first and is still grappling with being a father and his own childhood. Heavy stuff.
What did you think of this week's episode?