Mad Men Recap "To Have and to Hold"
Mad Men's 5 Maddest Moments: "To Have and to Hold"
On this week's Mad Men, Don and Megan's marital problems are rivaled only by that of the firm, which experiences strife among the employees and loses one of its accounts while failing to win a very important one. Things also get cutthroat in the advertising world, and we see some unfriendly competition between Peggy's new firm and Sterling Cooper Draper Pryce when Peggy acts on the tip Stan unwittingly gives her in last week's episode.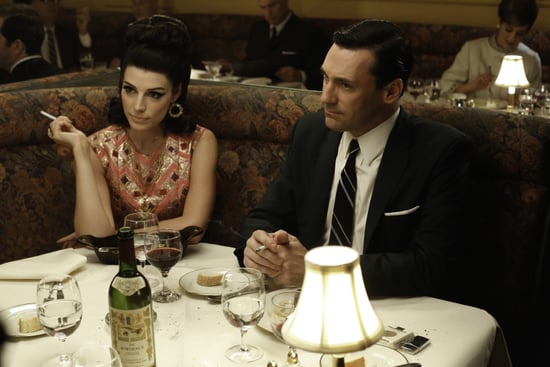 Meanwhile, Joan is struggling to maintain the respect of her colleagues at SCDP, even though it's clear that some people know the unsavory way she got her partnership. Ready to talk about these points and the rest of this week's maddest moments? Just keep reading.
Good things come to those who steal accounts. Don, Pete, and Stan initiate "Project K" — the secret campaign to win Heinz ketchup — but even with their subversive tactics, their beans manager finds out and drops SCDP. Worse, SCDP doesn't even win ketchup, nor do Peggy and her new firm. Not only are Peggy and co. waiting outside the room for their turn, but they also have a second awkward moment at a diner immediately afterward, and Kenny breaks the news to them all about the beans loss. Peggy's loss must feel even worse since it probably cost her Don's respect and Stan's friendship.
Swingin' '60s. I mean, the Drapers are very attractive, so it's not that surprising that Megan's costar and head-writer husband are trying to swing with them. It's awkward when the Drapers have to reject them, but I liked seeing Don and Megan joking about it in the cab after dinner. Things are so tense between them that it's a nice moment of levity, even if it's very brief.
Making a scene. Speaking of things being tense between Don and Megan, Don shows his extreme hypocrisy and general jerkiness when he visits Megan at work to crash her love scene. He makes her feel awful, comparing her job to prostitution and following up his jealous tantrum with a visit to his mistress. If only Megan had an inkling of what Don was doing; it would have been great for her to have been able to throw that back in his face when they're fighting in her dressing room.
Strangers in the night. When Joan's friend Kate (Marley Shelton) comes to visit, she wants to do two things: apply makeup and pick up dudes. Mary Kay salesgirl Kate takes Joan for a night on the town that ends with them making out with strangers in a bar and extremely hungover the next day.
Get over yourself, Harry. Don's not the only one insinuating prostitution this week. When Joan makes Harry mad by firing his secretary Scarlett, Harry reinstates Scarlett immediately and implies that he knows how Joan got her partnership. Harry all but demands partnership too, but all he gets is a commission check that's basically hush money and a condescending couple of comments from Roger and Burt. I did like seeing Dawn get more attention during this story line, though, and I hope the added responsibility she gets from Joan translates into something more.
What did you think of this week's episode?