Mad Men Recap "A Man With a Plan"
Mad Men's 5 Maddest Moments: "Man With a Plan"
The physical merging of the merger happens on this week's Mad Men, and people aren't just butting heads because there's not enough room at the SCDP office. While some people are having a tough time transitioning into the new situation, some employees have it worse and get the boot. Meanwhile, Don pushes his extramarital relationship too far, Pete's mother pops up, and Joan and Bob Benson both help each other.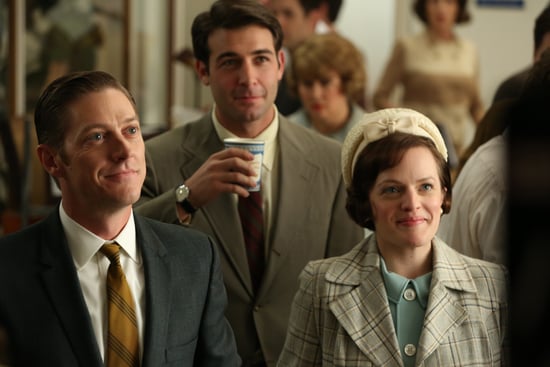 The show ends with one of the most shocking moments of the late '60s: Bobby Kennedy's shooting. Since it happens in the closing moments, it doesn't permeate the episode like Martin Luther King Jr.'s death did a few episodes ago, but it's a bold punctuation to the end of the episode. But before we talk about the end, let's get to the five maddest moments of this week after the jump.
The initiation of Ted Chaough. Ted and Don navigate their partnership and joint leadership as their companies merge, and their individual styles don't exactly mesh at first. Don wants to stroll into meetings whenever; Ted likes to be more organized. Don can drink his weight in booze; Ted is normal and passes out at work. This episode made me like Ted a lot more, and I also liked that Peggy marches into Don's office to order him to go easy on Ted. When she says "Move forward," you know she's saying "Grow up." Seriously. At least Ted gets his dignity back when he's coolly flying his own plane, aviators and sheepskin jacket on. (But that scene right before, when both men are terrified in bad weather? Hilarious.)
Bob Benson finally gets some attention. Joan complains about some abdominal pain, and when she refuses to get help, Bob proves that he's good for something besides following people around trying to pay for coffee or hookers. They bond at the hospital, Bob getting her in front of a doctor sooner, and then he drops by her place later to check on her and bring her son a present. I know Bob may just be trying to save his job (which he does, because Joan sticks up for him later), but I am fully in agreement with Joan's mom: he's adorable. Go for it, Joanie!
Mad moms. Pete's mother shows up at his apartment in the city, and she knows that something's up — though she suspects primarily that her husband is using the place to cheat on her. She does sniff out Trudy dumping Pete, but that's about the only part she gets right — it appears Pete's mom is suffering from some form of dementia. Pete of course doesn't treat his mom that well, and he even discusses having her committed with his brother. He does, however, get points for methodically requesting the building handyman make his mom a gin and tonic.
It's all fun and games until someone gets dumped. After Don overhears a knock-down, drag-out fight between Sylvia and her husband, they meet at a hotel and Don initiates a freaky game with Sylvia that incorporates degradation, prostitution, and control. You know, sexy stuff. Sylvia is pretty into it at first, until she's not (or maybe she heard me yelling at my TV to stop letting him do this to her) — and she gets dressed and tells Don it's over. After so much humiliation, can you blame the girl for being over it? The most shocking part of this scene is that Don drops his in-control act and pathetically squeaks out the word "Please."
Another shooting: Bobby Kennedy's assassination rocks the characters again, just months after the death of MLK Jr. As Megan sits in bed sobbing, Don sits by her but couldn't be further away. Will his relationship with Megan end now, just after his affair does?
What did you think of this week's episode?