Mad Men Recap "Mystery Date"
Mad Men's 5 Maddest Moments: "Mystery Date"
Sex and violence play a huge part in this week's Mad Men, and this episode has one of the most shocking scenes I've ever seen on this show (even though it turns out not to be real). Don is suffering from a cold that gives him disturbing dreams, and Joan's happiness about welcoming Greg home from Vietnam turns sour fast. Peggy gets an assignment from Roger, which leads to her spending quality time with Dawn, the new receptionist. Michael Ginsberg is quickly making his presence known at SCDP, though his tactics very nearly get him fired immediately.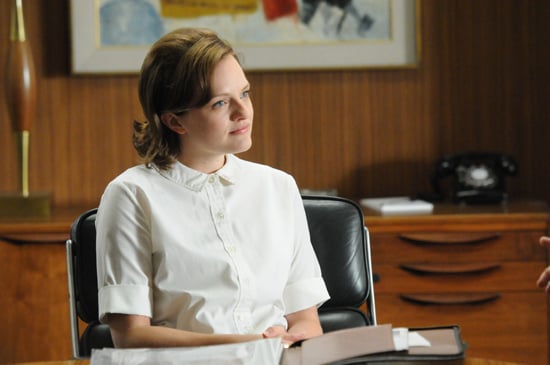 Even though the maddest moment of this week's episode doesn't really happen, I'm still having a hard time getting the image out of my head (I guess I know exactly how Sally feels). Let's chat about those scenes and more after the jump.
Sick in more ways than one: The new Mrs. Draper is starting to let her jealousy about Don's past life as a ladykiller get to her, especially after they run into an old flame named Andrea. Don tries to reassure Megan, but all's not really OK. When he goes home sick, he has a nightmarish fever dream that Andrea drops by, seduces him, and then taunts him so much that he strangles her to death and then kicks her body under the bed. My jaw was on the floor for the whole scene, wondering how this could really be happening, but like I'd suspected, it's all a dream. I'm still worried about Don's state of mind, though.
The end: Joan's husband Greg comes back from the war and they're ecstatic to see each other at first, but the second honeymoon is short. Greg tells Joan that he has to go back for a year, and Joan supports his decision until she finds out that he volunteered to go back, and then she's pretty livid. They have a screaming fight at home and in the morning, Joan tells Greg they're done. I feel bad for Joan, but I'm also proud of her for telling Greg he's not a good man, alluding to the time Greg assaulted her seasons ago.
Bad news: The Chicago nurse murders are in the news, and the story seems to fascinate people more than it horrifies them. It's most disturbing to Sally, who's stuck with Henry's mother while Henry and Betty are out of town. Sally dislikes the elder Mrs. Francis, butting heads with her about everything from TV to tuna salad. When she tries to shield Sally from the murder report, that naturally makes Sally want to know about it, and she can't sleep after reading the news. She confesses that she read the story and Mrs. Francis creepily retells the story to Sally like it's a bedtime story. She does have one way of helping her: a sleeping pill. Great. Pills. That's exactly what a troubled preteen needs.
Gotta stick together: Peggy gets the spotlight this week when Roger asks her to create a pitch for Mohawk and lie to Don that he'd asked her to do it the previous week. We rarely see a Roger/Peggy interaction, and I love the scene where he asks her for the favor. It's priceless; Peggy pushes back and Roger even whines at her. Hours after she agrees (well, accepts a bribe), she finds Dawn, Don's new receptionist, asleep in the office. Eventually, Peggy invites her to stay over at her place, but it's about more than being nice to Dawn, because Peggy uses her to vent to about being a woman in the office.
Cinderella story: I'm starting to like Michael, and part of it is because he's charmingly inept. When he pitches an idea to a client that he hadn't discussed with Don before, Don chews him out. Michael doesn't take it too seriously, but Ken assures him he was almost on the chopping block, delivering a perfect "I'm positive" when Michael disagrees with him that he was close to losing his job.
What did you think of this week's episode? Were you as disconcerted as I was by Don's dream of choking Andrea? And what did you think of Joan's decision to kick Greg to the curb?