Mad Men Recap "Public Relations" Episode 1 of Season 4 2010-07-26 06:00:00
Mad Men's 5 Maddest Moments: Episode "Public Relations"
Mad Men is back for season four, and it feels like the world has been turned upside down and each character is still trying to find their place to settle into. We pick up a year after we saw the staff of Sterling Cooper Draper Pryce last, and they've moved from a hotel room to more comfortable — yet still incomplete — digs in a new office.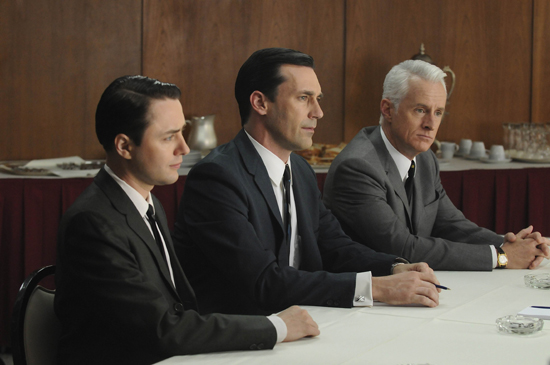 As expected, most of the action revolves around newly minted divorcee Don Draper. He's not exactly the cool cucumber that he used to be, getting the agency into hot water and making a general mess of his personal life. I'm ready to talk about this week's five maddest moments if you are, so to get on to it, just read more.
The Bachelor: We see Don's new way of life, and it's pretty bleak. The single man lives alone, and does what he wants when he wants to do it — including shining his shoes in front of the TV, forgetting to eat, and employing a slap-happy hooker. The only upside to Don's new arrangement? Roger Sterling has become his matchmaker, setting Don up on his first date with an eager young thing (recognize her? It's Anna Camp, aka Sarah Newlin from True Blood season two). Choice Roger Sterling quip: "You hit it off, come Turkey Day, maybe you can stuff her." And I thought the ladies had all the good lines about dating.
Working Girl: I'm digging this confident Peggy. It's like she gets one bob haircut and a year at the new office and she's this creative genius casually throwing ideas out while flirting with the hot new guy (Matt Long). She's not as untouchable as she acts, though — when her PR stunt to sell ham gets her in hot water, Don gives her a piece of his mind (some things haven't changed). Still, she has enough pizzazz to talk back to Don, and to be dating someone who likes her enough to lie that he's her fiance.
Please, think of the children: I feel bad for the Draper kids, particularly Sally. One of my favorite scenes is the blended-family Thanksgiving, when she suddenly, brattily, coughs up food. Between that and her late-night calls to Don, you can tell that she's only going to become more of a handful this season.
My two dads: Betty is now remarried to Henry (not that her in-laws think much of her) and still living in the old house with her new husband. Don is permissive about the unfair situation until Betty irresponsibly comes home late when Don has the kids, telling the Francises to get out or start paying rent. When Henry says that it's temporary, Don fires back with "Believe me Henry, everybody thinks this is temporary." Ouch. And also: touche.
Jai Goodbye: Don gets interviewed by Advertising Age to disastrous results — SCDP loses the Jai Alai account because it wasn't mentioned, Bert comes down on Don over it, leading to him stalking off in the middle of a meeting with Jantzen that's not going well. Has Don lost his touch? Maybe not — he takes Bert's advice and sets up another interview with The Wall Street Journal for spin control, and as he proudly recounts how Sterling Cooper Draper Pryce came to be, the episode ends on an oddly hopeful note.
What did you think of Mad Men's season four premiere? Did it assuage any concerns you might have had? Let me know what you thought in comments, and if you're a true fan, join the group It's a Mad, Mad, Mad Men World in the BuzzSugar Community!