Mad Men Recap "The Quality of Mercy"
Mad Men's 5 Maddest Moments: "The Quality of Mercy"
This week's Mad Men begins with a bang and ends in the fetal position. With only the finale left to go, tensions are high between pretty much everyone at the ad agency. Don is saving/sabotaging his fellow workers, Peggy and Ted are caught in a precarious position, and most importantly, Pete is getting closer to identifying just who the heck Bob Benson is. Still, this episode left me scratching my head even more about why exactly he's at the company.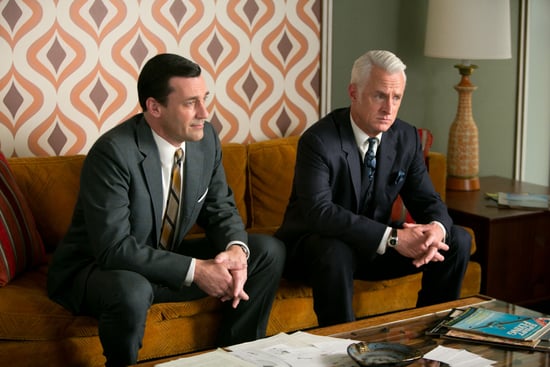 Meanwhile, Sally — likely suffering from PTSD after witnessing her father's indiscretion — has taken up an interest in boarding school. The initiation process turns out to be one part hazing, two parts cigarette-smoking, and a dash of Glenn! That's right, Glenn's back and he's kind of all grown up. It's totally weird, to be honest. Get my five maddest moments of "The Quality of Mercy" when you read more.
They killed Kenny — psych! Listen, after last year's tragic second-to-last episode, I'm a savvy enough viewer to know that Mad Men is not above killing off a main character. As soon as the camera pulls back to reveal poor Ken on the ground after his hunting partner pulls the trigger, I figured it's lights out for Kenny. How happy I was to learn he's just permanently disfigured in the face! Turns out he is dead — on the inside. He's been hating every minute of repping Chevy; he hates cars, he hates guns, and he doesn't even want to look at steak anymore! Ever the sacrificial lamb, Pete steps up to take on the Chevy account. One of my favorite parts of the episode is seeing Pete have a moment of honesty with Ken about his marital situation, quickly followed up with an emotionless, "Yes, it's unfortunate." Baby steps, Pete.
Who are you? Speaking of Pete, he reaches a pinnacle of hatred for Bob when the partners stick them together for the Chevy account. In one long, uncomfortable handshake, Pete angrily tells Bob to step down from the account, that he knows he's in love with him, and he doesn't want to share a hotel room. Bob counters with, "You should watch what you say to people." Whaaat? Then we see Bob yelling on the phone in Spanish about Pete being a pain in the a** who's messing with his future. Double whaaat. In an attempt to rid himself of Bob, Pete enlists Duck, who gets some interesting info: Bob's résumé is fudged, though he was once a "man servant." Pete confronts him, but the snake that he is, he tells Bob he'll keep his secrets, but only if Pete gets to be "off limits." Way to not look out for the company, man.
Shipping off. Sally has had e-effing-nough of her family. She gets Betty to take her to tour a boarding school, and on the overnight stay, her student ambassadors haze her, asking her what she brought for them. Sally doesn't have any booze or cigarettes, but she does have her old pal Glenn, who comes over promptly with a sketchy friend named — wait for it — Rollo. Long story short, Rollo likes Sally, Sally doesn't like Rollo, Glenn beats up Rollo. This whole thing is strange, but not as weird as Betty offering Sally a cigarette on the way home. Oh, Sally, how you've grown! And how Glenn has grown too — that greaser hair suits him.
Red-handed. Megan persuades Don to take a sick day after finding him passed out, and they hit up the movies. There, at an evening showing of Rosemary's Baby, they find Peggy and Ted chuckling in the aisles. Megan tries to gossip with Don about it, but he doesn't take the bait. Don knows there's something going on, though, and he takes it out on Ted in the only way he knows how: with business.
Three's company. Don does not like that there's something between Ted and Peggy. He humiliates Ted in the boardroom by teasing a "very personal issue" in front of the client, then revealing that the idea for their campaign is the late Frank's "last idea." Everyone, including me, is very awkward-ed out. Ted is livid, but not as angry as Peggy, who barges into Don's office, screaming that Don is a monster. Is she finally done with him?