Mad Men Recap, "Tea Leaves"
Mad Men's 5 Maddest Moments: "Tea Leaves"
On this week's episode of Mad Men, Betty's back — and in an, um, "big" way. Thanks to January Jones's real-life pregnancy, Mrs. Francis has packed on a few pounds after what appears to be more than one afternoon spent on the couch with a box of Bugles. Things take a dramatic turn when Betty's mother-in-law advises a trip to the doctor, and he finds a tumor in her throat.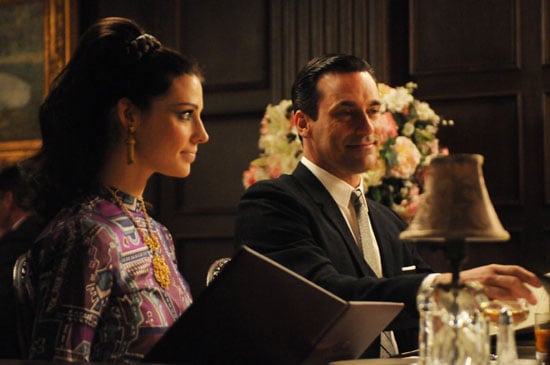 As Betty contemplates her mortality, Don and Harry take a little work offsite to a Rolling Stones concert in the name of Heinz. Back in the office, Peggy adds a new copywriter to Sterling Cooper Draper Pryce, and the tension between Roger and Pete continues to build. It's a relatively slow episode ("Zou Bisou Bisou" is a tough act to follow), but let's break down the biggest moments when you
.
Scary situation: Betty's clearly a bit bored in her life as Mrs. Francis, and as her mother-in-law points out, Betty is starting to let herself go. She heads to the doc in hope of scoring some diet pills, but he finds a tumor instead. Betty begins contemplating what will happen to her kids if she has cancer, and starts having nightmares to go along with it. Ultimately, the tumor is benign, but the scare doesn't shake Betty into reevaluating her life: it only makes her help herself to more ice cream.
Wise beyond her years. Betty's not the only one who's initially shaken up by her tumor: Don is also starting to panic. He's suddenly caring and introspective (perhaps because he recently lost Anna to cancer), but he's also pushing Megan away. When bikini-clad Megan is hurt that he wants to blow off their trip to Fire Island because he's upset about Betty, he tells her that she's 26 and basically insinuates that she's too young to understand. Megan handles the situation nicely, reminding Don that she's old enough to handle death and even manages to convince Don to come along on the trip. Yet another case of Megan proving that Don's temperament doesn't scare her.
Let's spend the night together: Don and Harry head backstage at a Rolling Stones concert in hope of scoring the band for the new Heinz campaign. They basically redefine "fish out of water" standing in their suits and ties among teenage girls smoking joints. Harry gets an in with a groupie, which leaves Don fraternizing with a young fan — and for the first time, Don actually seems fatherly instead of trying to hit on her. It's all for naught though: Harry ends up signing a band called The Trade Winds thinking he got the Stones. Whoops!
Tension in the ranks: Even with his new office, Pete and Roger are still butting heads around SCDP. Pete concedes the Mohawk account to Roger, much to Roger's pleasure — only to essentially take it back at the end of the episode. As he pops a bottle of champagne, Pete announces that Roger will be dealing with the day-to-day, but he'll still be the one in charge. Roger is obviously disgruntled about this and laments to Don that he's starting to feel like he's being shoved out the door at Sterling Cooper Draper Pryce. This relationship seems like a ticking time bomb, but what will prompt the big blowout?
New guy: With Mohawk airlines back on the client list for SCDP, Roger demands that Peggy find a new copywriter. Enter Michael Ginsberg, whom Stan dismisses as too qualified (he warns Peggy of hiring someone who might be her boss someday), and Roger likes because of his Jewish background. Peggy is immediately turned off when he thinks she's a secretary, and is concerned how Don will feel about his off-putting remarks. As it turns out, Don's completely fine with Ginsberg, and he gets a job. There's just one late-breaking twist: despite Michael's claim that he has no family, friends, or ties of any kind, we learn at the end of the episode that he lives (and cares for) his father. Wonder how this one will affect his promise to live in the office 24/7.
I was happy to see Betty back on the show, but I'm not sure where they'll take her character throughout the season. Plus, it felt like more Betty meant less Joan, and I definitely missed Joannie this week. How'd you feel about the episode?
Photo courtesy of AMC