Mad Men Season 5 Finale Recap
Mad Men's 5 Maddest Moments: Season Finale "The Phantom"
Mad Men has wrapped up another season, and while the finale doesn't have the same kind of shocking moment as last week's episode, there are still a few jarring things going on in the lives of the employees of SCDP. Pete's affair comes to an end, Megan's mom visits, Joan is still dealing with the fallout of Lane's death, and there's a general air of melancholy.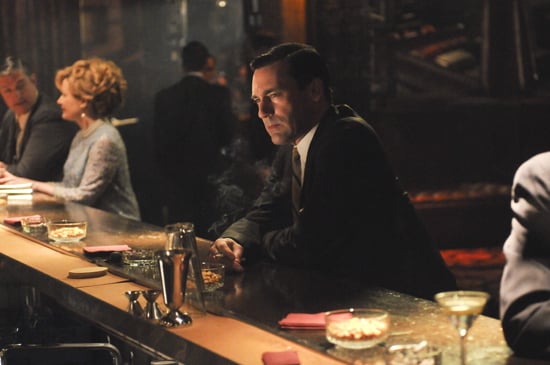 I'm ready to start chatting about the maddest moments of the season five finale, so if you're ready to break it all down with me, just keep reading.
Visions of Adam: Don has a toothache, and it's causing him to see hallucinations of Adam, the brother who sought him out in season one. As you recall, Adam killed himself after Don wouldn't acknowledge him — and he had hanged himself, as Lane did. First, it's just flashes of Adam at the office, but then Don has a conversation with him when he's drugged at the dentist. He mournfully asks Adam not to leave him.
The end of the affair: After Pete runs into Beth on the train with her husband, Howard, she asks him to meet her at a hotel, where she explains that she's going to get electroshock therapy for her depression. She worries that she'll forget Pete, and wants to sleep with him one last time. He fails to talk her out of the extreme therapy, and when he visits her in the hospital after the procedure, she doesn't remember him, just as she'd feared. While they talk, he has a sad revelation about the affair, and it's one of the only times I've felt sympathy for Pete this season. He's so pained by the experience that he can't help himself when he runs into Howard on the train, and his reaction to Howard's insensitivity reveals that Pete is who Beth was sleeping with. They get into a fistfight, and Pete gets clocked by Howard and the train conductor. With a battered and bloody face, Pete comes home to Trudy, who gives him permission to get an apartment in the city.
A woman's touch: Ginsberg is already suffering with Peggy gone, and he disappoints Topaz (and Don, as per usual) with his latest pitch. Peggy, meanwhile, is having a bit of a tough time adjusting to her new job, but she seems like she's doing well enough. In a nice scene, she plays hooky from work and runs into Don after his tooth extraction at the movies. They greet each other warmly, and it made me worry that we won't see Peggy again next season.
Mommy dearest: Megan's mom is staying with the Drapers, and she's completely unsupportive about her daughter's acting aspirations. For her part, Megan resorts to a little shadiness to get her first real job: after her actress friend pressures her to talk to Don because she wants a part in a commercial for one of SCDP's clients, Megan instead asks Don to give her the part. Don convinces Megan that she doesn't want to build her career that way, but after he watches her screen test (in which we see that she uses her maiden name to act) and looks touched, she ends up with the job. After he walks away from a fairy tale scene (subtle), he heads to a bar where a beautiful woman asks if he's alone — and the finale ends on Don's face.
Roger Sterling's butt!: Best moment of the episode? The vision of Roger's bare butt. Before he strips down, he hits up Megan's mom, Marie, for a hookup while she's in town, calling the Draper household and pretending to be Megan's dad, Emile (how funny is Roger's French accent?). Still searching for meaning, he asks Marie to do LSD with him, and though she's not so keen on the idea, Roger goes ahead and has another acid experience — hence the nudity.
What did you think of the season finale?