Mad Men Season 5 Interview Jared Harris
Mad Men's Jared Harris Says He Would Have an Affair With John Slattery If He Could
Jared Harris plays the British contingent of Sterling Cooper Draper Pryce on Mad Men, which finally returns for a fifth season this Sunday. Harris chatted with a few reporters today to talk about what it's like coming back after such a long break, and even though he has to be cagey about the specifics of season five, he did share how he's like his character Lane Pryce. He also revealed which of his costars he spent downtime with in the off-season, and why he's being so tight-lipped about the show.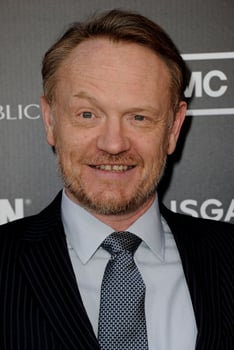 Can you talk about which other characters we'll see Lane having scenes with this season?
Jared Harris: All I can say is I have a good season. I'm looking forward to it, I'm looking forward to it unfolding. They really are very vigilant about us not saying who we have scenes with, and given that Matt Weiner is sitting not too far from me, if I say something and piss him off, I don't know what he'll do to me next season.
Were there any costars you missed the most?
JH: Most of my stuff is normally with Vinny (Kartheiser) and Christina (Hendricks) and with Jon (Hamm). I miss them all. I play poker, and Vinny and I get together and play poker in the off season. Rich Sommers is a lovely guy, he's very funny, and there's a great camaraderie amongst everybody, and that is one of the things I looked forward to going back to when I came back. But if I could have any affair with any of them, it would be John Slattery.
Which characteristics of Lane's do you identify with, and which do you not?
JH: For me, half of my reference of Lane is based on my stepfather, Rex Harrison. He's one of the models for the character in my mind. In terms of what am I not like, I haven't got his fastidiousness of dressing. I'm enjoying it. I enjoy that part of performing the character and as a requirement for showing up to do things for Mad Men, you can't show up in a pair of dirty jeans and a t-shirt. So I enjoy that. I enjoy the dressing up part, but I don't have that in my own personal life. I'm a little more of a slob.
To see what else Harris spilled, just keep reading.
How has it been to come back to the show?
JH: I was thrilled to be back. I was looking forward to it. I didn't doubt for a second that we would be coming back. It was more a question of when, not if, and I think the time away made me appreciate the experience more. One of the things that I came back with a renewed sense of was how lucky I was to be on the series. You go off and read other scripts and stuff like that, and there's not that same attention to detail that Matt brings to it, and I realized how lucky I was to be working with material written like that.
Will we learn more about Lane's relationships?
JH: I will say this, which is what Matt said: After the season's over, if you go back to watch the season premiere, you'll see that everything that happens in this season is set up in the first two hours. Matt does it so backwards; he doesn't repeat himself. He's not interested in regurgitating storylines. He sees that all of these characters are sort of moving forward in their lives and through time. Everything is a progression. He'll go back and pick up threads from season two and season three, and that pays off in the season. The answer is yes — I can't be more specific than that.
Have there been anything about this season that has surprised you?
JH: Every single script has something that surprises you. Throughout the season, he makes sure that he gives everyone something to do; some new revelations and twists and turns for the characters. You get surprised yourself at what he's written for you, and where he's taken the character. That happens every time you read each script.